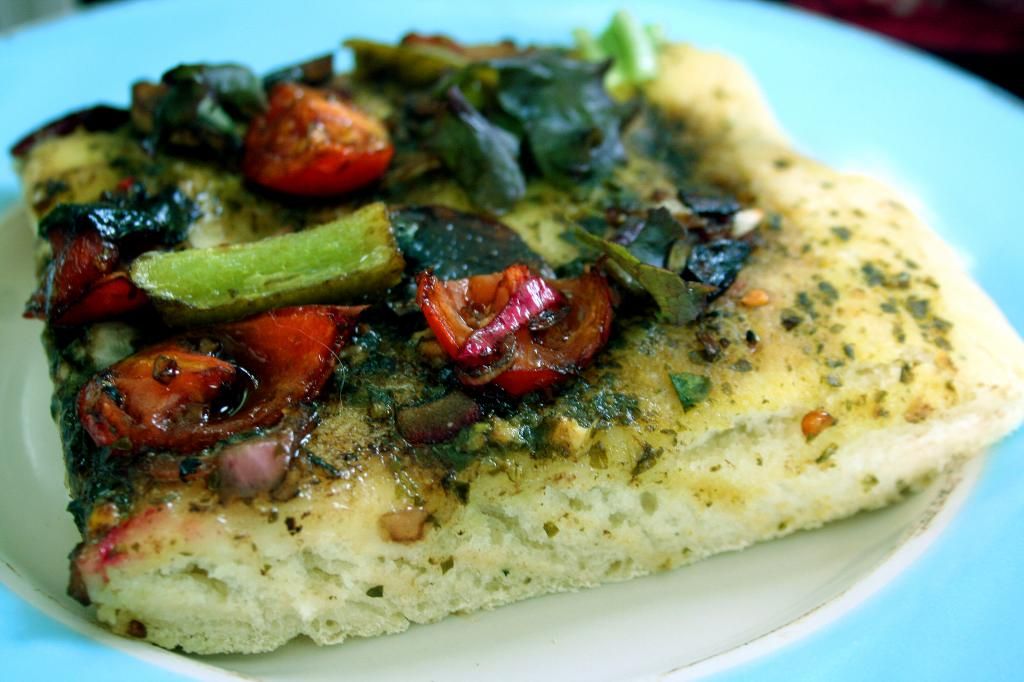 Every once and a while, the traditional red sauce, cheeze (of whichever variety you choose), and garlic pizza simply doesn't hit the spot. It's not that it's not delicious (because it is), but you want something more. And not just adding onions, or peppers, or mushrooms, but reconstructing what a pizza can be. Enter artisan pizzas. While artisan pizzas are almost always thin crust, it would go against everything that I believe in to make a thin crust pizza. That's where this recipe comes in.
Inspired by a restaurant down the street from our home, this pizza is a perfect mix of the delicious, fresh flavors of a salad with the crunchy, garlic-y profile of thick crust pizza. One Sunday afternoon, we were considering ordering pizza from a delicious Vegan pizza place that delivers, but after going back and forth on the options they offered, we decided nothing in particular appealed to us, even though we wanted pizza. Our solution? Take the parts of the pizzas we both wanted and put them together. Genius!
1 pizza dough, homemade or other.
1/2 red onion, thinly sliced
1/2 large red bell pepper, thinly sliced
4 cherry tomatoes, cut into quarters
1 peperoncino pepper, diced
2 1/2 tablespoons balsamic vinegar or red wine vinegar
2 tablespoons olive oil
3/4 teaspoon salt
1/2 teaspoon pepper
2 cloves garlic, diced
1/4 teaspoon sugar
1 tsp basil, dried
1 cup red lettuce, roughly shredded
Prep pizza dough as needed.
Prep all the vegetables and place in small bowl. Add remaining ingredients and drizzle olive oil and vinegar over the vegetables, coating everything evenly.
Place bowl in refrigerator and allow vegetables to marinate for at least a half an hour.
Preheat the oven at 375 and stretch out the dough if necessary. Using a brush, spread the olive oil and vinegar mixture over the dough. Add all of the vegetables to the pizza, except the lettuce.
Drain remaining mixture over the pizza, and keep the lettuce wrapped up.
Leave pizza in oven for 15-20 minutes or until beginning to brown. At this point, add the lettuce and allow the pizza to cook for 3-5 minutes.
Enjoy!