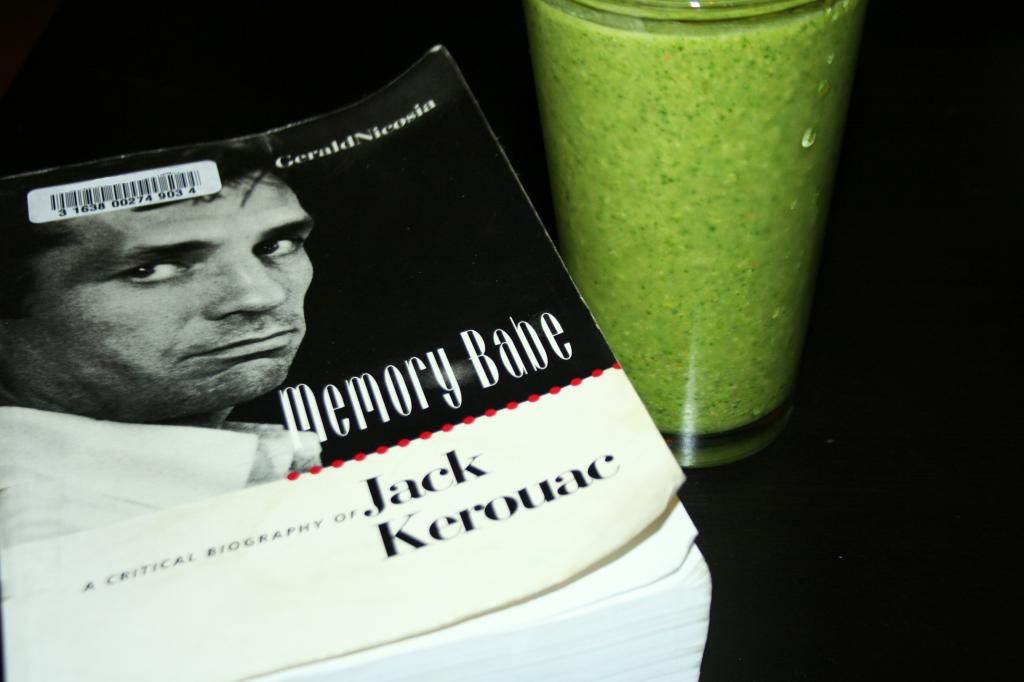 Making smoothies that taste like desserts is truly an art form. Unfortunately, a lot of people like to say that they've got a recipe that tastes like a dessert, only to find that the only way I would make that connection is because of the name. For example, I wanted to have an oatmeal cookie dough smoothie, so I checked Google to see what was out there, only to find out that the recipe that appeared to be quite popular (and whose creator will not be named) didn't taste anything like an oatmeal cookie. After a few tries, I came up with this recipe, which I think is the closest to an oatmeal cookie that I've found as of yet.
First note regarding this smoothie: make sure your blender can handle it. Lots of frozen and hard ingredients. We've got the ninja as our 'big' blender, and that thing is a monster. The Ninja never has a problem breaking through ice, and it's actually a really easy blender to use because the engine is on the top piece. It's surprisingly quiet too, which is great when I'm up at 5:45 in the morning and I'm trying to not be super noisy. So, if you're in the market for a blender, there's a thumbs up from this corner!
Second: This recipe makes a lot. You could cut it in half, but it actually works out quite nicely because when we make a smoothie, we usually make it for two, and this will get you about 3-4 cups for each person, which is enough to really fill you up for a meal.
As for the book in the picture-- Memory Babe is an extremely in-depth critical piece of research on Kerouac's life and watches his writing develop as he deals with the trials of his sexuality, Oedipal complex, and his inability to find solace in his life as both the product of a working-class Canuck family & as a writer of scholarly circles. It's fascinating to watch how he undulates between groups, and offers new insight into how he developed as a writer and as a human. As a distant relative, I find this extremely interesting (and actually, in the beginning, the direct lineage to my family is even mentioned, which was kind of cool). Compiled with the fact that I'm working on a book on Kerouac (I'd tell you more, but I can't until I have made some more headway in the project), and this book is the Bible for me right now. If you're a fan of the Beats or of Kerouac, this is the best you'll find for a background, and a day-by-day in some instance, which is incredible that this could even happen.
1 cup water
1/2 cup oatmeal raw, not instant
1 scoop vanilla protein powder
1 1/2 cup kale
3 frozen bananas
1 tsp almond extract
1 tsp vanilla extract
1/2 tsp cinnamon
2 tbsp flax seed
6 ice cubes
2 tbsp cashews
1 tbsp peanuts