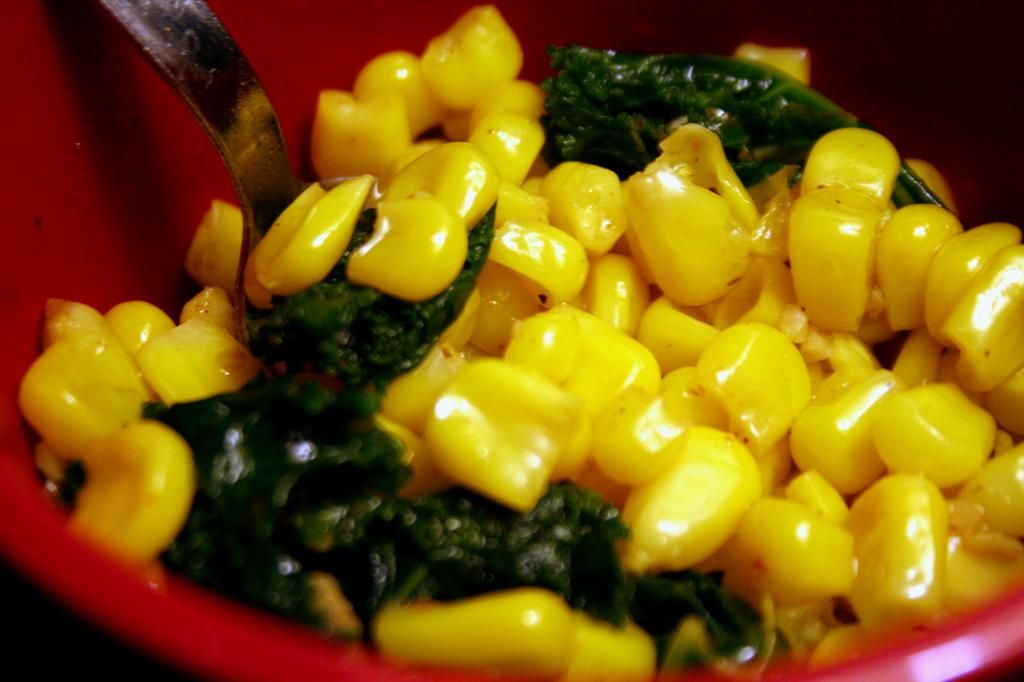 Since we're getting close to the Thanksgiving festivities, it only seemed right that we played with some American foods to spice things up-- and what better way to spice things up than to add some curry to a classic!
This dish was created in the midst of a black bean burger night, when we wanted a side, but we couldn't decide on something we both wanted. I wanted a steamed kale type dish, Ashley wanted a peas n' mashed potatoes deal; unlike Congress, we met somewhere in the middle. Not in the mood for plain old boring corn, we added some kale. And some curry. And got a little crazy with it. But don't worry, I promise; it's delicious.
3 cups corn
1 cup kale
1 tsp curry
2 tbsp Earth Balance butter
1 tbsp olive oil
1/2 tsp onion powder
2 cloves garlic
dash of salt
crushed black pepper
In a small mixing bowl, add butter and spices. Mix as thoroughly as possible, although this can be a bit of a challenge because the butter is still solid.
In a medium-sized pot over medium heat, add olive oil. Add garlic, stirring occasionally until browned.
While garlic is sauteeing, add Kale to butter mix, covering the kale thoroughly.
Once garlic is browned, add corn. Stir and cook until bright yellow. Add kale mix, and turn heat to low. Cover.
Cook for 10-15 minutes, stirring occasionally.
Serve.