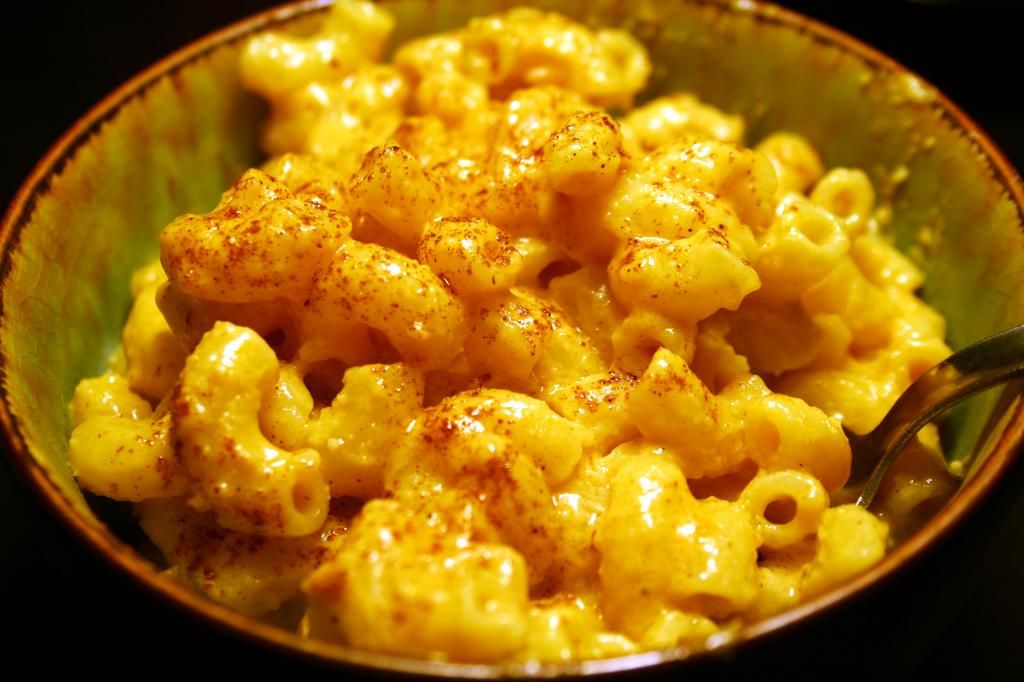 It's not like me to be a big braggart, but when it comes to comfort food, especially Mac N Cheese, I am wonder woman. When I first became vegan, mac and cheese was what I missed the most.
Then, Andy and I took a trip to Charleston, SC a few months after I'd gone vegan. We made a pitstop in Richmond, VA, and found a vegetarian/vegan friendly restaurant called Impanema in the city center. They had a great tofu burger which came with an amazing side of vegan mac and cheese. At first, I thought nothing could even come close to my childhood favourite dish, but my gods, their mac was amazing.
When we got home, I started thinking. They told me they couldn't divulge their recipe secrets, but they did say, with a wink and nod, that they couldn't serve it to people with a nut allergy.
It took some time (about 4 years, actually), a bunch of tests and a lot of failures, but in the end, I love this mac more than the boxes (even Road's End, which is an incredibly Vegan easy boxed version of the favourite).
I wasn't sure I wanted to share it with everyone at first, because then I couldn't have a "secret" recipe, but when even my non-vegetarian friends ate it and asked for seconds, I decided the world should have this one. Plus, I've seen cashew inspired mac floating around the internet a bit and thought I could jump in on the action!
As a PS, it's not very diet friendly, this recipe. That's what makes it really good, I guess, so I make zero apologies on that point. You also really need to have an exceptional blender or food processor to get the cashews down, or skip this step and use cashew butter - the unsweetened, unmodified kind.
1 c cashews (I use unsalted, roasted)
1/2 c canola oil
1/2 c non-dairy butter
1/4 c nutritional yeast
1/2 - 3.4 c unsweetened almond milk
salt & pepper to taste
1/2 tbsp turmeric
1 tbsp garlic powder
1 tbsp onion powder
1/2 tsp paprika
dash of red pepper
1 tsp mustard powder
2 tsps lemon juice
Start by blending down your cashews in a dry food processor or blender, until they are broken apart and in small chunks. Add the oil in, and blender for 3-4 full minutes, or until completely smooth.
In a small saucepan, heat the non-dairy butter with a splash of oil to keep it from burning. Once it's all melted down, add the nutritional yeast, and then add the cashew and oil blend from your processor. Turn your heat down to medium-low. Stirring frequently, slowly add in the first 1/2 c of your almond milk. Then, add in your spices, and the lemon juice, whisking or stirring after each addition. If the sauce is too thick, add another 1/4 c of almond milk. If it's too thin, add a bit more nutritional yeast, or 1 tsp of arrowroot powder, whisking thoroughly after you add it.
That's it!. Pour the sauce over cooked elbow macaroni and there you go. You can add in some tvp chilli "meat" for a heartier meal, or mix this with a can of tomato soup and bake at 350 degree for 15 minutes or so and get a creamy tomato-y casserole.