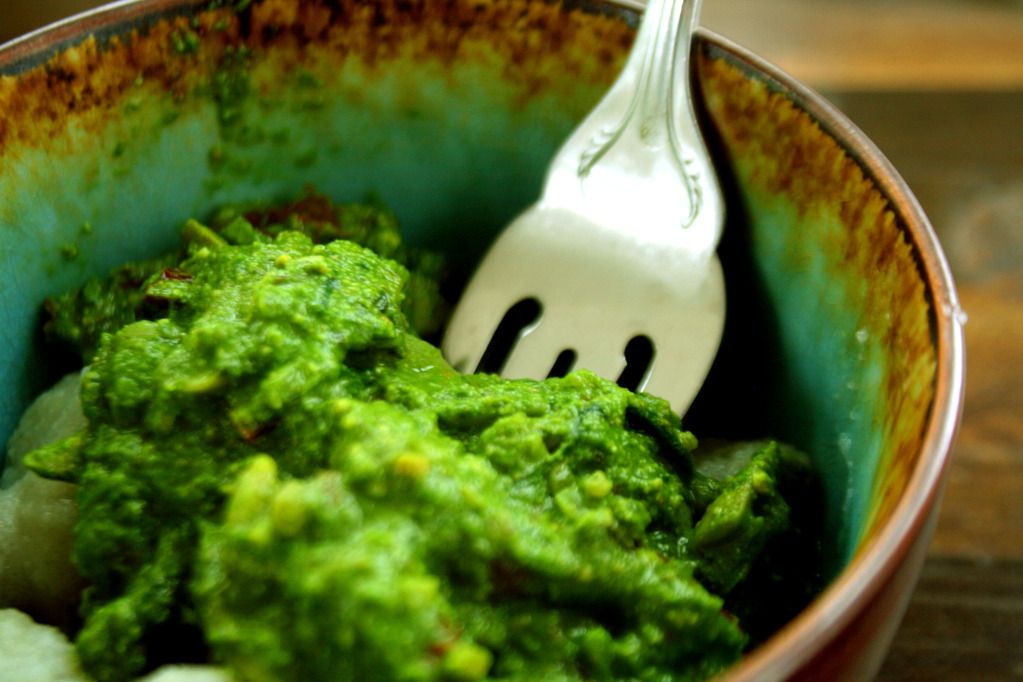 Everyone loves pesto sauce-- but it isn't cheap and it's usually not vegan. Even to make it at home isn't very cheap, so I came up with this recipe on a whim (pictured above covering some gnocchi), and decided it was a good enough alternative that other people should know about it. It's slightly cheesey, thanks to the cashews and nutritional yeast, and while you'll know it's not pesto, it's good enough on its own to mix up your sauces for pastas. Let us know what you think!
16 oz. spinach
1 cup non-dairy creamer (I use Trader Joe's)
1 tbsp olive oil
1/4 cup cashews
1/2 white onion, sliced
1/2 vegetable broth buillion cube
2 tbsp minced garlic
1 tbsp chopped sun-dried tomatoes
1 dash paprika
1/2 tbsp dried basil
1 tbsp nutritional yeast
1/2 tsp oregano
1 tsp parsley
salt and pepper to taste
In a blender or grinder, crush the cashews.
In a blender, mix all of the spinach but one handful, the cream, and the cashew crumbs.
In a medium fry pan, heat the oiland add the garlic and onions until carmelized, 5-8 minutes. While this is carmelizing, chop up the handful of spinach.
Add sun-dried tomatoes, chopped spinach, and all other ingredients except the spinach/cream mix. Cook for 3-5 minutes.
Add spinach/cream mix to fry pan and turn heat down to low. Allow to cook, stirring occasionally, for 10-15 minutes. If it gets too thick, add a little oil.
Enjoy!