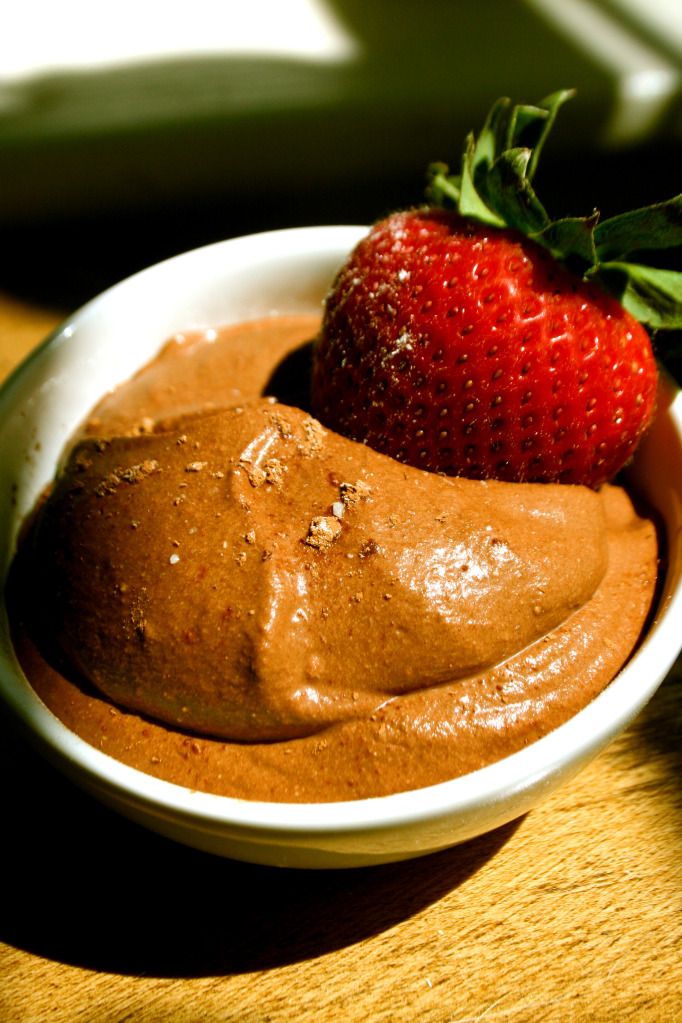 I am probably the biggest proponent of junk food the vegan community has ever seen. If it's covered in sugar or remotely associated with chocolate, I'm all about it.
Yesterday, after being forced to do P90X with Andy (yes, forced, I am also a very lazy creature) I felt the universe OK'ed a lapse in the dessert-free world I call my house.
I'd seen someone use coconut milk to make a very simple whipped cream, and it had been in my head for a few days when I had another thought: why couldn't I make a chocolate pudding with coconut milk? It wouldn't even be that bad for me!
So, I started whipping a can of coconut milk. It definitely was an arm workout, but in the end, it was pretty fluffy and light, which is exactly what I wanted. Then, I just added 1 cup of cocoa powder, and 1/4 c agave nectar, and whisked it again.
Here's the great part: It's so good, and so easy, this chocolate pudding can be anything. I used it as a dip for some amazing strawberries, and then I ate some of it like pudding, and then, when I was done enjoying that thoroughly, I froze it, and today ate it as an ice cream. You could even use it as a chocolate whipped cream. Really, there are some amazing possibilities with this.
And if you aren't feeling the agave route, try smashing some banana, or some strawberries, and using that as a sweetener. This will definitely weigh it down, though, so you might not be able to use that as a whipped topping, but as an ice cream, the banana addition is especially delectable.
Keep on keeping on, vegan junk food lovers!