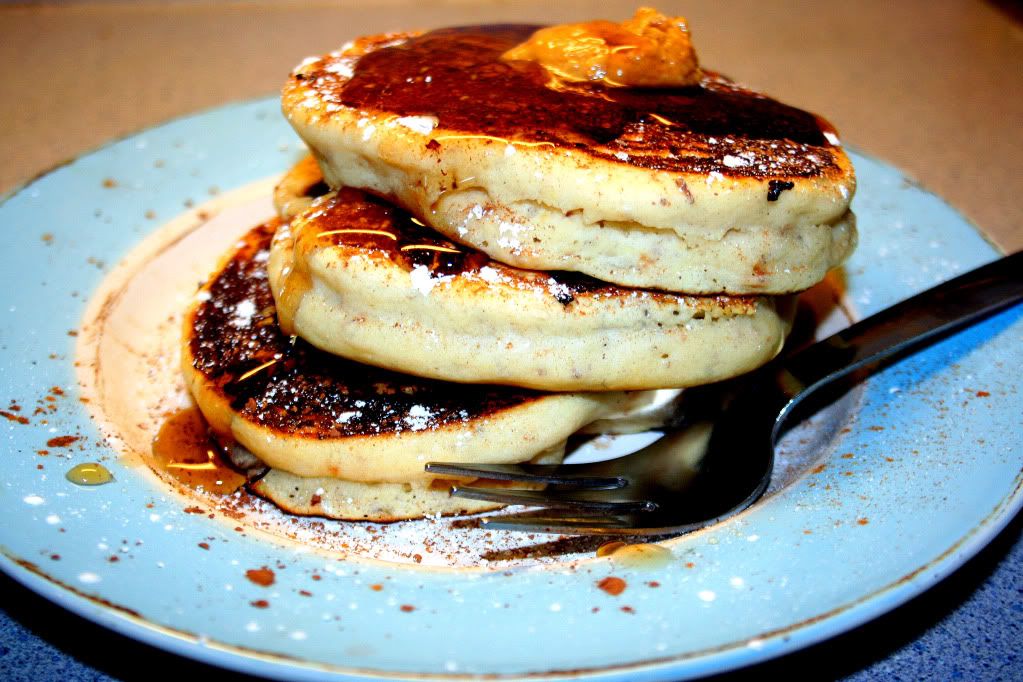 Yes, world, you are welcome.
I woke up this morning feeling cranky, tired, and full of cravings for candy. It happens, especially to me. Unfortunately, we have no candy, and we don't really eat it anyway, and so it was doubly worse. I had a serious debate on perhaps having my entire pint of coconut ice cream for breakfast (I'm an adult, I can do that if it pleases me!) but I resisted, at least for now.
I entertained the thought of one of our Chocolate Peanut Butter Smoothies, but decided that it was too "on the healthy" side, and today is not that day.
I settled on making a few pancakes for myself. But, I decided to try making them with the elements of the smoothie in them - thereby settling both cravings at once. And so, without further ado, here they are: Vegan Chocolate Peanut Butter Pancakes. From New England with Love.
1/4 c AP flour (or whole wheat)
1 scant tbsp baking powder
1/4 tsp salt
1/4 tsp cinnamon
1 scant tbsp vegan sugar
1 tsp ground flax seed
1/2 c vanilla soymilk
1 tbsp canola oil
1 tbsp natural peanut butter (no salt, sugar or oil added)
1 tsp cocoa powder (if desired)
Combine all dry ingredients and mix together. Add soymilk and oil, mix until batter is smooth. Then, add the peanut butter (and cocoa powder, if you like) and mix one last time.
Spoon onto hot pan or griddle in 1/4 c. Cook for 2-3 minutes on each side, or until brown.
Serve hot. Sprinkle cinnamon and confectionery sugar on the top of your pancake stack, and add a small dollop of peanut butter should you choose. Enjoy, my fellow vegan junk-food cravers!