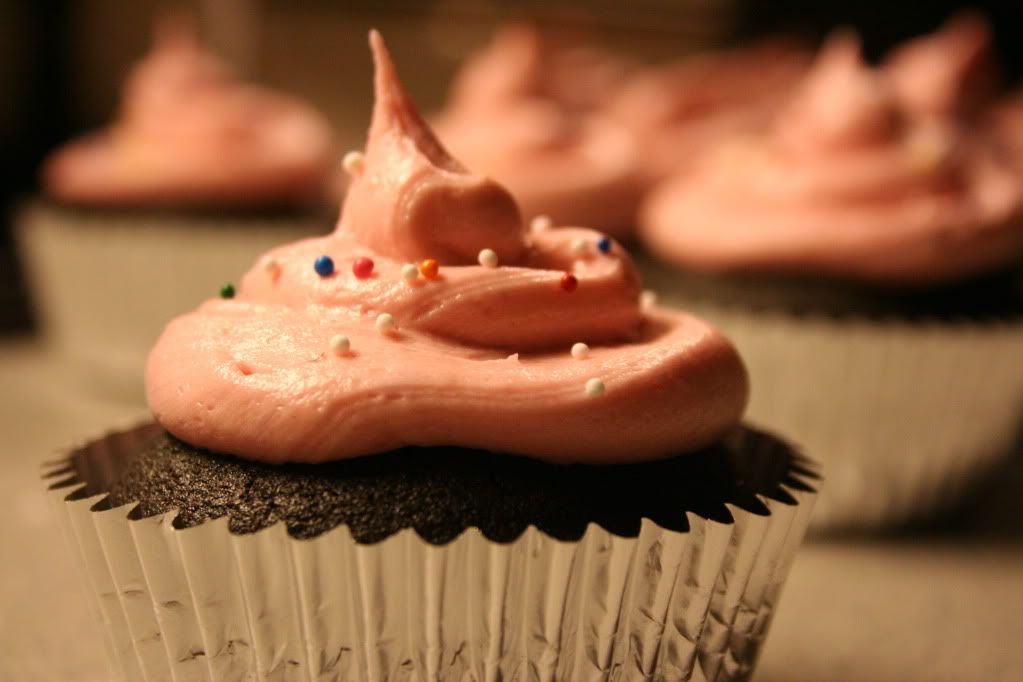 Honestly, few things in life are better than chocolate and fruit. I'm not even raspberry's biggest fan, but even I know this combination makes a perfect cupcake.
I started this recipe nearly 2 years ago, and I've played with it a few times since then, even going so far to make it more brownie-like. Now, I'm back to the cupcake version and we are still so happy together.
Eventually, I will get around to making my own jelly for this recipe, but as our raspberry haul from the garden last year was less than spectacular (a lot less) I settled for a store-bought. But, it's always better to do it yourself!
1 c vanilla almond or coconut milk
1 tsp apple cider vinegar
3/4 c sugar
1/3 c oil
2 tbsps raspberry jelly/jam OR 1/8 c smashed raspberries
1 tsp vanilla extract
1 tsp raspberry extract
1 c AP flour
1/3 c cocoa powder
3/4 tsp baking soda
1/2 tsp baking powder
1/4 tsp salt
Preheat your oven to 350 degrees, and place the liners in your cupcake pan.
Mix the non-dairy milk with the apple cider vingar and let it curdle a bit (basically, let the milk separate. It sounds a bit yucky, but all you are doing is making vegan buttermilk. It helps the cake rise by acting as the vinegar agent. I promise it will all be OK!). Combine the sugar and oil, and add the milk mixture. Then mix in your extracts and your jelly and stir. Sift in your dry ingredients in order given, and mix to remove clumps (I use a whisk for this).
Using your 1/4 c meansure, scoop the batter into liners. Bake for 20 minutes (or until a toothpick comes out clean).
Once they come out and cool down, use a spoon to gently lift off the top of the cupcake. (This is a bit complicated to explain, but use your spoon to dig gently in a circle - you want to have a bread-bowl like cap at the end of this!) Spoon in your raspberry pudding mixture (see below), and place the "cap" back on the cupcake. Then frost and decorate!
Raspberry Pudding
1/2 c vanilla silken tofu
1 c raspberries, OR 1/3 c raspberry jelly/jam
2-4 tbsp confectionary sugar (to your desired consistency)
4 tbsps almond or coconut milk
2 tsps vanilla extract
Blend all ingredients until smooth. Chill for 1/2 hour at least.
Vegan Raspberry Buttercream Frosting
1/2 c shortening
1/2 c non-dairy butter
4 c confectionary sugar
2-6 tbsps almond or coconut milk
1 tsp vanilla extract
1 tbsp raspberry extract
2-4 drops red or pink food colouring
Mix all ingredients until smooth. Pipe onto cool cupcakes.