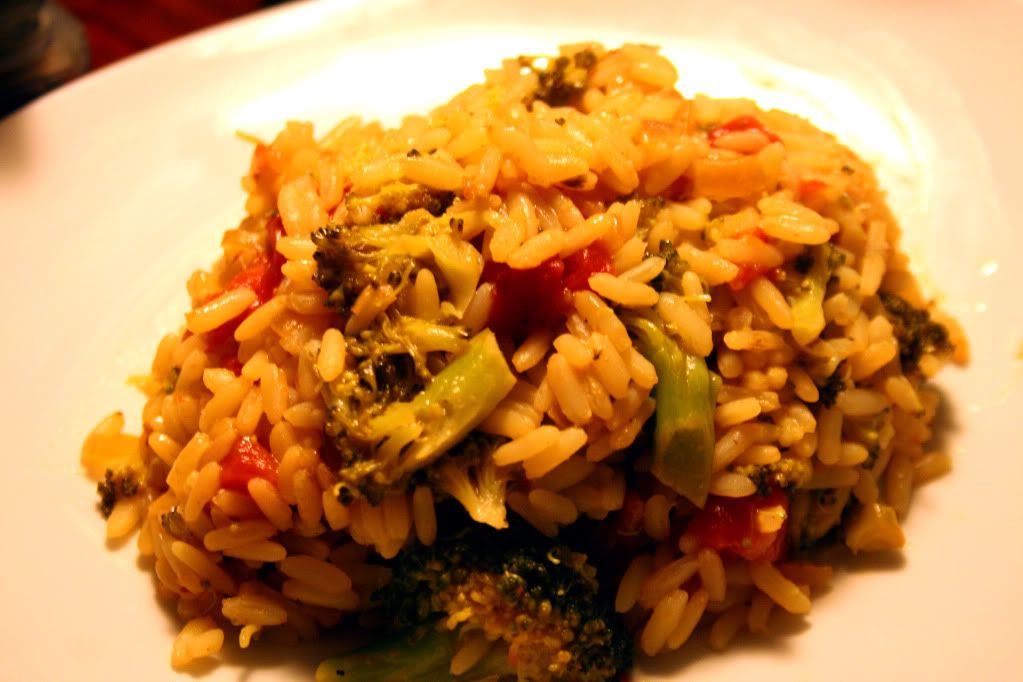 I'm kind of a food colonialist; I love sampling foods of the world, and I have no qualms with reinventing traditional recipes--especially (of course) by means of veganizing traditionally not vegn recipes. The nerd inside of me, of course, is screaming "the false dichotomy between modernity and tradition is holding you back!" at which I laugh, gazing towards my stacks of postcolonial theory books. Nerdity is a love/hate relationship.
Returning to the food at hand, a simple issue with many recipes is using beef or chicken broth, which can be replaced with the use of veggie broth and oftentimes various spices. This was the case in this recipe. This moroccan rice is delicious and slightly sweet in a way that doesn't taste so much 'exotic' as it simply tastes delectable. I've always been a fan of moroccan foods, but for some reason they have never really made it to my kitchen for the mostpart. This week, however, I finally got up the courage to try to recreate one of my favorites, and I must say it came out delicious-- I hope you enjoy it too!
Note: This dish pairs extremely well with the
Peanut Butter Vegetable Soup
, which is framed upon a traditional North African soup recipe.
1 tbsp. olive oil
1/2 red onion, chopped fine
1 cup rice
1 1/2 cup vegetable broth
1 cup water
1 cup broccoli florets
1 can diced tomatoes, undrained
1/2 tsp. turmeric
1/2 tsp. ground coriander
1/2 tsp. ground cumin
1/2 tsp. ground cardamom
1/8 tsp. cloves
1/2 tsp. salt
1/4 tsp. black pepper
Heat oil in a large saucepan and cook onion until slightly browned.
Add rice and stir for a few minutes.
Add remaining ingredients, stir, reduce heat to simmer, and cook for 30 minutes. Let stand for a few minutes before serving.