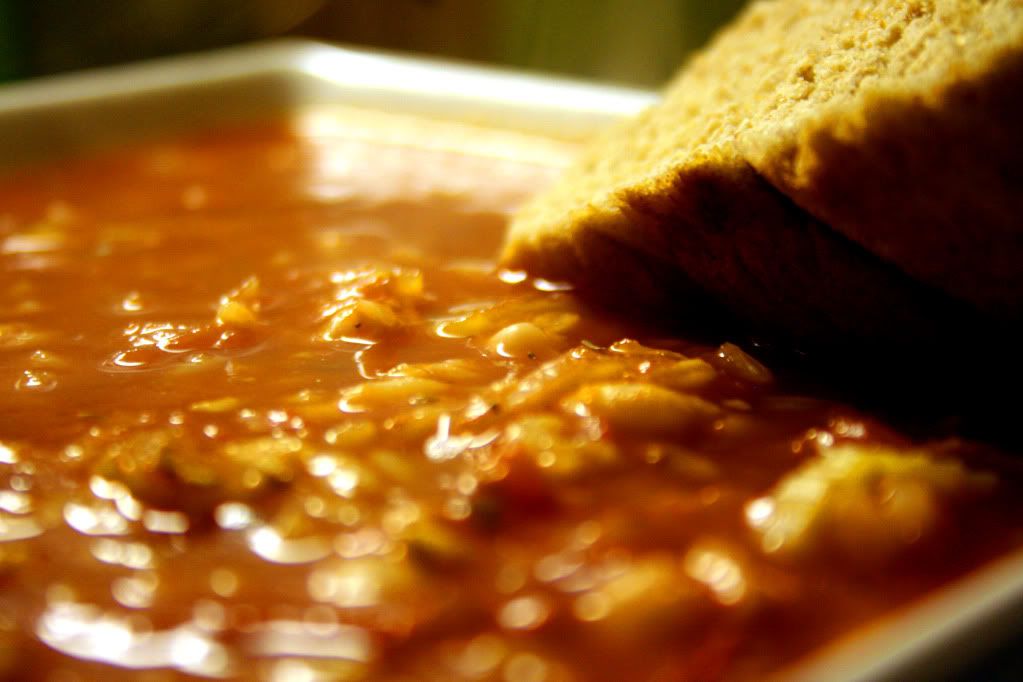 I love a hearty, thick tomato soup. As a kid, coming in from playing in the snow meant tomato soup and grilled cheese-- fortunately, I have Ashley to make my soup and grilled cheeses (vegan, of course!) when I come in from shoveling the snow. This winter has been crazy without any snow (except for the dusting we received this morning), but that doesn't mean we can't have a nice tomato soup to sweep away the chill from our bones! This tomato soup is thick and filled with brown rice, navy beans, onions, and garlic to fill you up even though you'll want another bowl. A great pair with some home-made wheat bread and a movie. It should be noted that this recipe makes a LOT! Cut it in half if you don't want it for the next week.
4 tbsp garlic, minced
1 tbsp extra-virgen olive oil
1 medium-sized yellow onion, diced
2 (28 oz.) cans crushed tomatoes
1/2 cup celery, diced
1 cup long-grain brown rice
1 (15 oz.) can navy beans, drained and rinsed (fresh is better for this recipe, in which you would need 1 1/2 cups)
3 bay leaves
2 tsp dried thyme
1 tsp dried basil
1 tsp dried marjoram
1 tsp sea salt
fresh ground black pepper to taste
In a large soup pot over medium-heat, add onions and garlic. Saute for 5-7 minutes, until translucent.
Add celery, saute for another 2 minutes.
Add rice, bay pleaves, thyme, salt, marjoram, and peer and continue cooking over medium heat for another 2 minutes, stirring consistently.
Add crushed tomatoes, and fill one and a half of the cans up with water, stirring into the soup (42 ounces).
Bring to a boil and lower heat, simmering for 45 minutes.
When the rice is cooked, add the beans and continue providing low-medium heat to heat through. Remove bay leaves and enjoy!
Caloric Info

| | |
| --- | --- |
| Servings | 10 |
| Calories | 137.1 |
| Total Fat: | 1.7 grams |
| Sat Fat: | 0.2 grams |
| Polyunsat. Fat | 0.3 grams |
| Monosat. Fat: | 1.1 grams |
| Cholesterol: | 0 grams |
| Sodium: | 427.0 mg |
| Potassium: | 160.3 mg |
| Carbs: | 24.9 grams |
| Dietary Fiber: | 6.4 grams |
| Sugar: | 5.7 grams |
| Protein: | 5.9 grams |