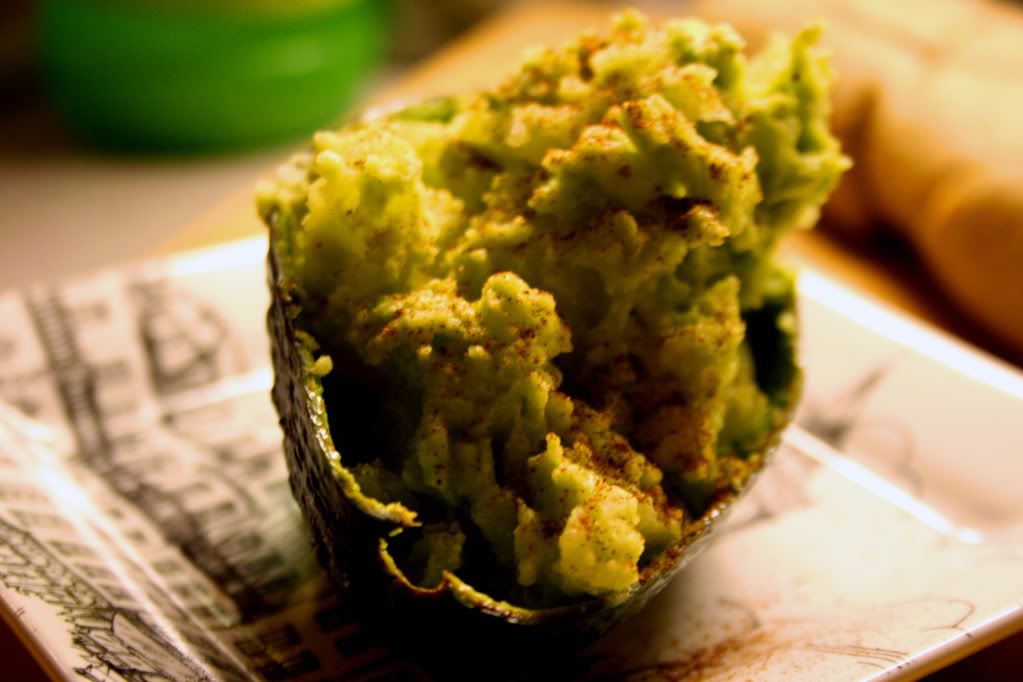 To take a page from Isa Chandra Moskowitz's book (quite literally), we've started making a healthier potato salad for small side dishes. It was in Vegan Brunch when she proposed making it with avocados. Below is our take on her idea.
2-3 small yukon gold potatoes, peeled, chopped in to small pieces, boiled and cooled
1 small onion
1 very ripe avocado
3-4 tbsps lime juice
2 tsp silken tofu (or vegan sour cream)
1 stalk celery
1 small tomato (optional)
cumin, salt and pepper to taste
Peel and chop your potatoes Boil them in slightly salted water for 10-15 minutes, or until soft. Drain them, and set them aside to cool.
Chop the onion and celery stalk and set aside.
Run a sharp knife into the avocado from end to end, as though you are going to cut it in half. Instead, cut until you reach the pit, then slide your knife through the rest of the avocado, following the pit, through the rest of the avocado lengthwise (so you cut through the whole thing except the pit). Then, hold both sides, and twist from opposite directions - the avocado should come right apart, leaving the pit in one side. Scoop that out and throw it away.
Using a melon-baller, scoop the insides away from the skin, getting as close as you can without damaging the rind. Put the avocado insides in a mixing bowl, and add the lime juice. Let the avocado soak in the juice for a few minutes, so that the avocado can get soft.
Once it feels soft and is starting to look a bit creamier, use a fork to mash the avocado into a thick consistency (obviously, there will be a few whole pieces). From here, you can put the avocado in a blender or food processor if you wish, but it's not necessary if you don't mind a few avocado chucks here and there.
Mix in the cut-up celery, onion, and add the silken tofu (optional, for consistency. But, you can also use a bit of vegan sour cream, if you prefer) using the fork. Mash it all together until you are happy with the consistency, and then add salt, pepper, and cumin to taste.
Add the potatoes to your avocado mixture, and place the whole thing in the fridge for a few minutes. Then, use your avocado rind to serve in the small "dishes", as soon in the picture above.
Caloric Info

| | |
| --- | --- |
| Servings | 4 |
| Calories | 180.3 |
| Total Fat: | 9.5 grams |
| Sat Fat: | 1.3 grams |
| Polyunsat. Fat | 1.4 grams |
| Monosat. Fat: | 5.8 grams |
| Cholesterol: | 0 grams |
| Sodium: | 15.0 mg |
| Potassium: | 844.5 mg |
| Carbs: | 24.4 grams |
| Dietary Fiber: | 6.3 grams |
| Sugar: | 2.5 grams |
| Protein: | 4.9 grams |