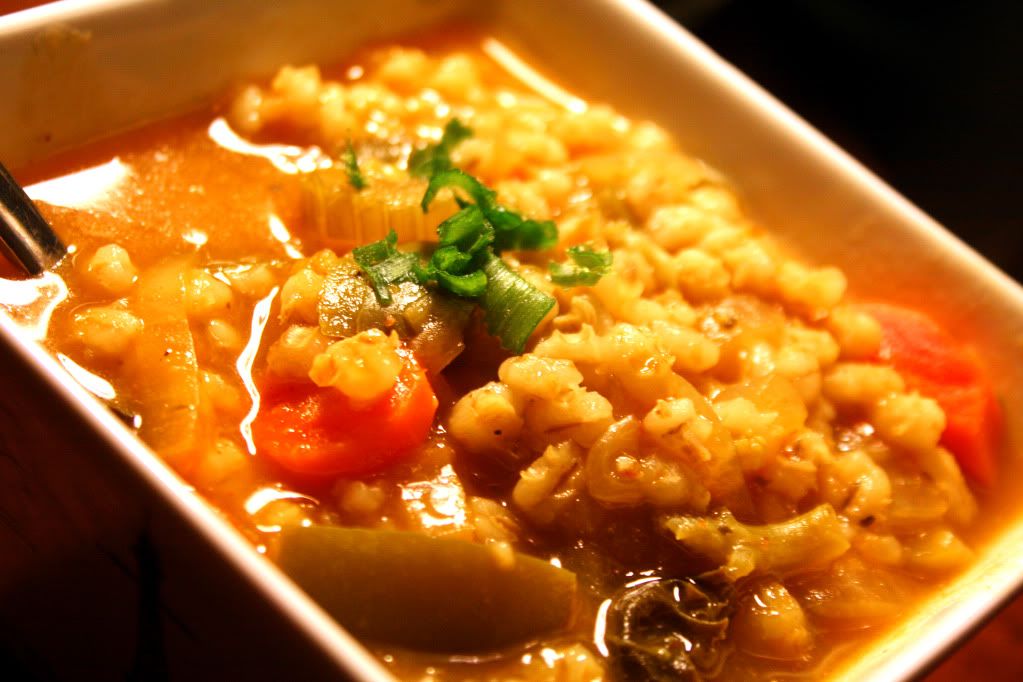 As winter wears on, it seems like no matter how much you vary your soups, they end up getting tiresome. One ingredient that I always regret that I don't use (and seem to always have in stock) is barley. Stowed away deep in the recess of our cabinets, the humble barley offers a little something extra to beef up the soups into having a little new life. While the soup thickens up over the stove, I keep my mind distracted with my expected purchases for the garden next year.
Speaking of which, our garden next year is due to provide us with major produce (in theory). Okay, probably not. But last year we bought some cranberry bushes... okay, more like cranberry toothpicks, but this year may be their year to blossom. Along with those bushes, we added a large cluster of first-year plants that we hope will offer us a word of sweet and savory goodies this upcoming season. Blueberries, blackberries, strawberries, and raspberries will also join our team of persimmon, fig, and grapes in the perennial category, and I'm already looking for something exciting and new to add this year. I'm tempted to tackle a black current or *gasp* maybe a filbert, but I'm concerned that our landlord is going to attempt to charge us per plant instead of per person that live here. Thoughts?
Anyways, this soup will keep me going while I dream of warmer days. Hopefully it helps you as well!
4 cups vegetable broth
3/4 cup uncooked barley
2 large carrots, chopped
1/2 cup broccoli, chopped
1 cup kale, chopped
2 stalks celery, chopped
1 (8 ounce) can tomato sauce
1 green pepper, chopped
1 (15 ounce) can garbanzo beans, drained and rinsed
1 red onion, chopped
2 bay leaves
1 tsp garlic powder
1 tsp agave nectar
1 tsp salt
1 tsp dried parsley
1 tsp curry powder
1 tsp paprika
1/2 tbsp Worcestershire sauce (as always, make sure it's vegan!)
ground black pepper to taste
Pour the vegetable broth into a large pot over medium-high heat. Bring to a boil and add the barley, carrots, celery, tomatoes, green pepper, broccoli, garbanzo beans, onion, and bay leaves.
Season with garlic powder, salt, pepper, parsley, curry powder, paprika, and Worcestershire sauce.
Bring to a boil, add agave, stir, cover and simmer over medium-low heat for 90 minutes.
The soup will be fairy thick. If you want it to be more soup-y, add broth or lessen the amount of barley in the recipe.
Caloric Info

| | |
| --- | --- |
| Servings | 6 |
| Calories | 214.1 |
| Total Fat: | 1.7 grams |
| Sat Fat: | 0.2 grams |
| Polyunsat. Fat | 0.7 grams |
| Monosat. Fat: | 0.5 grams |
| Cholesterol: | 0 grams |
| Sodium: | 640.5 mg |
| Potassium: | 494.5mg |
| Carbs: | 43.3 grams |
| Dietary Fiber: | 9.1 grams |
| Sugar: | 4.8 grams |
| Protein: | 6.9 grams |