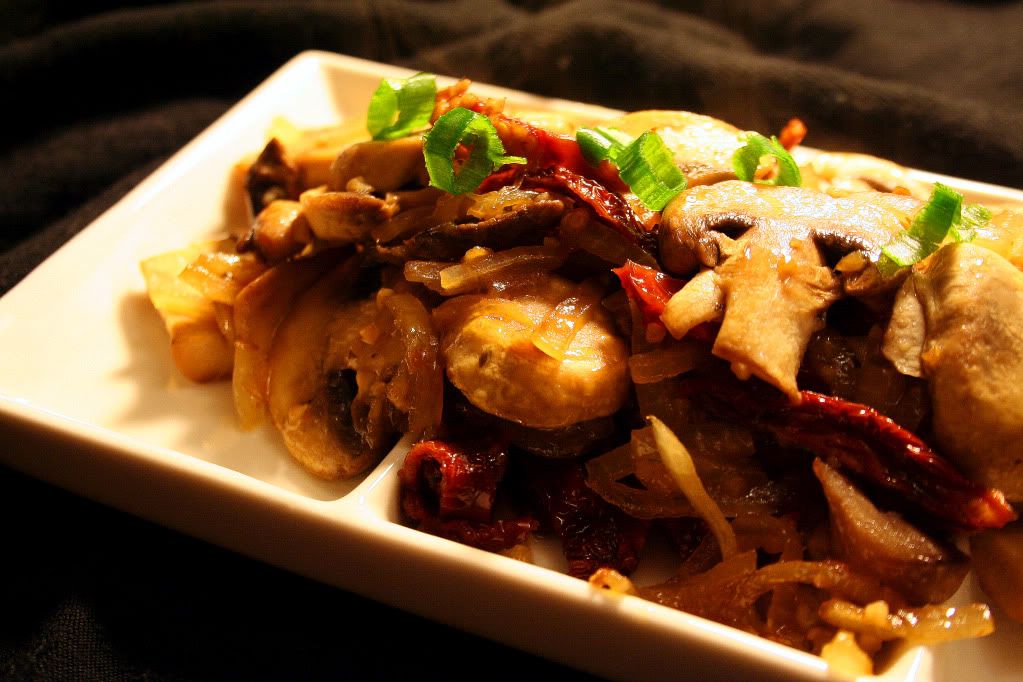 Whenever we buy mushrooms, we usually have a particular reason for buying them. However, occasionally some mushrooms are left over from a prior meal, which sit in the fridge and at the last minute I have to come up with something that can use them up without needing a bunch of mushrooms. A few nights ago, after making a
mushroom herb white wine sauce
, these leftover mushrooms were left to slowly dry up and enter my compost heap. After thinking about it, I remembered a recipe that I had tried in the past that was a mushroom saute, and I came up with this. These onion marinated mushrooms are delectably cooked in a delicious sauce of oil, vinegar, garlic, and brown sugar and once you start eating them, it may be particularly hard to stop. The addition of the sun-dried tomatoes infuse a fantastic flavor that balances out the softness of the mushrooms and onions, and this side dish might take the lead role of your meal.
1/3 cup red wine vinegar
2 tbsp extra virgin cold-pressed olive oil
1 small white onion, thinly sliced
2 sun-dried tomatoes, sliced
1 tsp salt
2 tbsp dried parsley
1 tsp ground dry mustard
1 tsp dried basil
1 tbsp brown sugar
2 cloves garlic, peeled and crushed
1 lb small fresh button mushrooms, sliced
In a medium saucepan, mix vinegar, olive oil, and garlic. Bring to a boil.
Add salt, parsley, dry mustard, basil, and brown sugar. Reduce heat.
Stir in mushrooms and sun-dried tomatoes and simmer 10-15 minutes, stirring occasionally.
Serve.