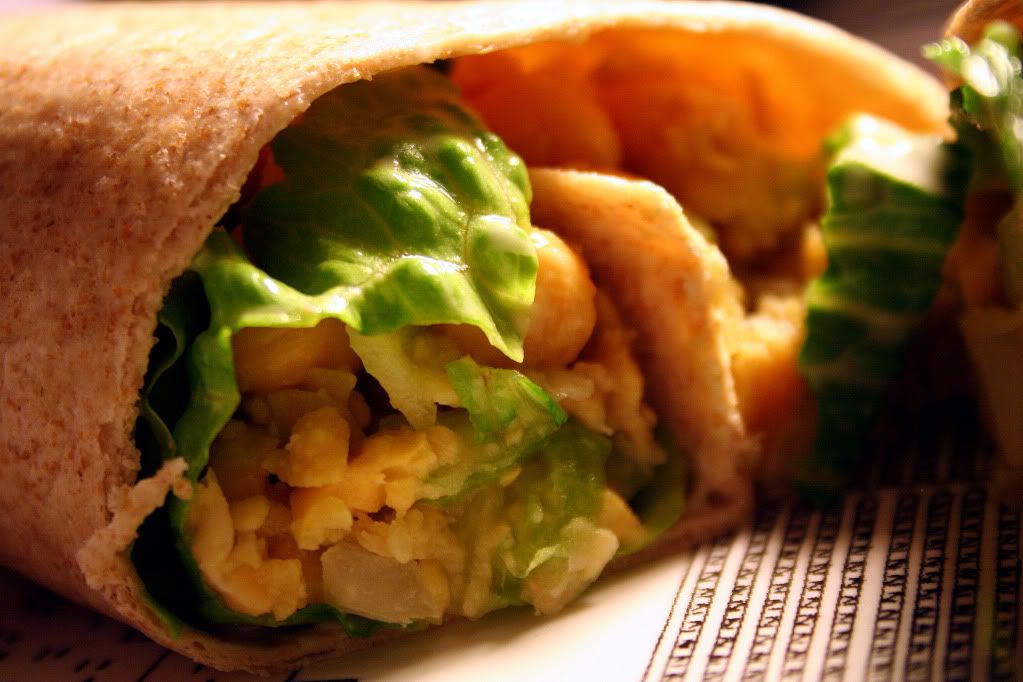 This lemon chickpea wrap is reminiscent of a chicken salad wrap in texture, but not in taste. The great thing about wraps is that they are a way to mix up your meals if you're trying to eat more salads-- as it's simply a salad in a wrap! While a typical wrap might include all of these ingredients, the way they are brought together here is what gives this one the particular texture that makes it so refreshing. If you're looking for a new way to eat your veggies, this is it!
The one thing I have noticed is that over the years, I have never really rolled a successful wrap. I either put too much food on it, or not enough, or I break the shell. Somehow, amazingly, for the picture above I was able to finally get the perfect wrap. Upon success I had expected lights, balloons-- the whole nine yards. While that didn't happen, the enjoyment of eating a wrap without having to fish for falling objects with my thumb as I jammed it in my mouth was a gift in itself.
1 (15 ounce) can garbanzo beans, drained and rinsed
1 stalk celery, chopped
1/2 medium white onion, chopped
1 tsp olive oil
1 tbsp lemon juice
1 tsp dried chives
salt and pepper to taste
1 tsp red wine vinegar
1 tbsp of your favorite sauce/covering (i.e. guacamole, mayonnaise, cucumber sauce, etc.)
1 few leaves of lettuce, sliced
1 wheat wrap
Drain the and rinse the chickpeas. Place the rinsed chickpeas in a bowl.
Smash the chickeas with a fork until 2/3 of the chickpeas have been broken. The best way to eyeball this is to notice that there are some whole chickpeas left in the bowl, but most are crushed.
Add the celery, onion, olive oil, lemon juice, spices, vinegar, and sauce to the bowl and mix well. The end product should be a thick, lumpy mass of deliciousness.
Leave in the fridge for a minimum of two hours for the flavors to blend. Place on wrap with the lettuce and enjoy!