Looking back at the gardening year of 2011, even though it was rather cool and rainy, we were able to get a decent amount of vegetables out of the garden. Ultimately, we ended up focusing on cooler-weather plants such as kale, spinach, arugula, and lettuce. But, that's okay! Better than nothing. We tried growing cucumbers, squash, and zucchini in pots over mulch beds with little luck. I'm not sure if that was because of the cool weather or because they were in pots-- after pulling them out for the fall, it didn't appear that the roots had needed more room, so I'm not too concerned about that. Maybe it was because of the shade from the house compiled with the cloudy summer?
Our side-garden layout: To the side of the small bed is our house/sun room, which were followed by the mulch beds further south where the cucumbers, zucchini, and squash grew.

Our tomatoes did surprisingly well, and by well I mean they gave us about 5 pounds per plant-- nothing spectacular, but not too bad at all. Considering the weather, I'm going to take that as a success. I think I'll be moving the tomatoes to a place with more sun next summer-- we'll see how that works out.
The garlic appeared to need another year to really settle in, so we didn't pick any of it, and I'll let you know how it is next year. The sunflowers also didn't end up doing so well in their position against the house-- I'm betting that there wasn't enough sunlight to help them grow. However, some of them managed to shoot over the beans and wrap around the corner of the sunroom to catch more sun and grow a bit larger.
The beans grew well, providing almost five pounds by season's end (from this small section and the other-- see below), and I'll be saving plenty of the beans to plant for next year. The celery, however, was delicious but small. I've never grown celery in my life, so this was a completely new experiment which I'm feeling out as I go.
Below: The larger portion of our garden-- you can see a weird section above the detailed drawing-- it's an only disposal/incinerary section that has a light covering of soil over the area. Because of this, the space is limited primarily to plants that grow very shallow roots, and I've decided to put pots over the actual cast-iron incinerary hole cover with the squash. This didn't work out well, so I'm going to try to come up with some better solutions for next year.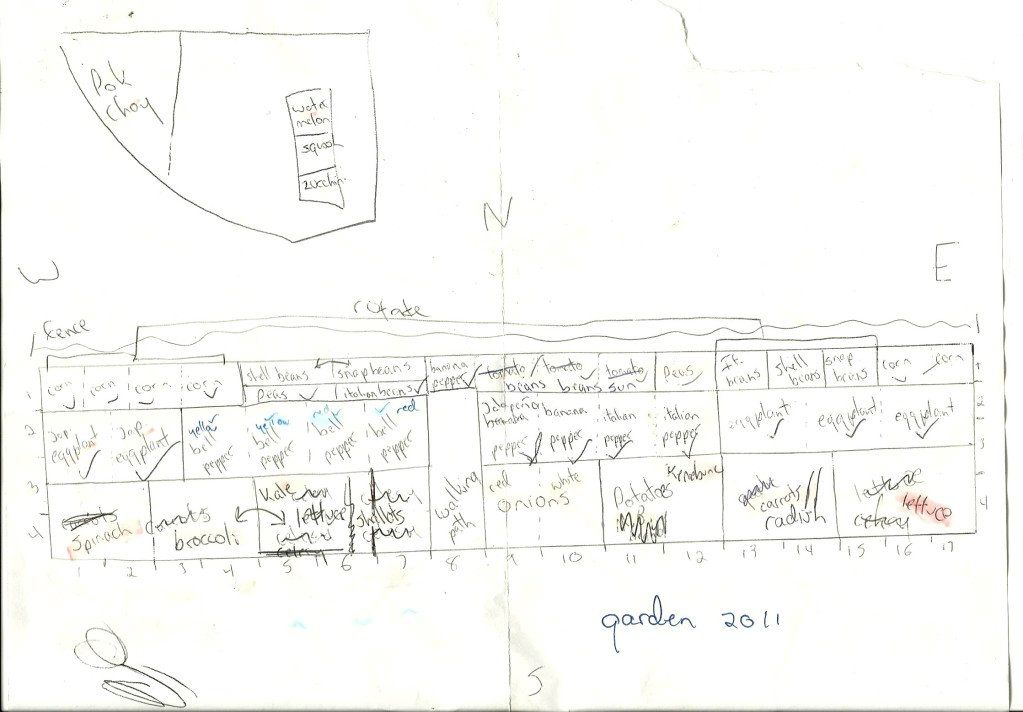 As you can see above, we had a huge variety of stuff to grow. We also have a fairly large space for gardening, concidering the city we're in. I can't complain, except for the fact that we have a fair amount of trees providing shade over this space, making it a bit of a battlefield, especially in a summer like this past year's.
The corn as shown above, was growing surprisingly well, up until a storm completely eviscerated their existence. It seemed that those that survived had stunted growth, and we didn't get any corn from them. The beans, as stated earlier, did well, as did the peas (roughly 3 pounds of peas). The eggplant gave us nothing-- they sat in the ground without growing almost the entire year. I'm starting to think that the bushes to the east of our garden give too much shade to that area of the garden, and I should leave it mainly to low cool-weather greenery. Sounds lik a good plan, right?
Both the carrots and the potatoes were first-time plants for me as well. The potatoes did well, but were a bit small. The carrots, on the other hand, were planted too closely together so they were wrapped over each other, none of which grew particularly large. The Italian, banana, and jalepeno peppers did surprisingly well, as they were from seed (which we got nearly 30 peppers from), but the bell peppers only gave us maybe 6 peppers total.
Speaking of being concerned with the coolness of the east side of the garden, the broccoli, spinach, and kale did not do well-- they shot up too early, and gave us maybe three cups of greenery between the three of them. I'm a bit doubtful about growing broccoli again, it seems to take up a lot of space without much return, but the kale is definitely going in next year.
Lastly, the onions and shallots were both absolutely delicious. I wish I had planted more shallots, and I wish I had planted the onions further apart. The only major concern I had with the onions was that they did not grow overly large, although again I think that was mostly weather-related. Although, I do have concerns about my laziness in terms of weeding.
I've been reading more about urban gardening, and how a good garden shouldn't typically need to be weeded because you shouldn't have many weeds. The idea is that you should have layers of plants-- i.e., lettuce growing underneath tomato plants-- the lettuce keeps weeds out, while the tomato provides shade for the lettuce. This might be an experiment next year-- I will keep you updated!