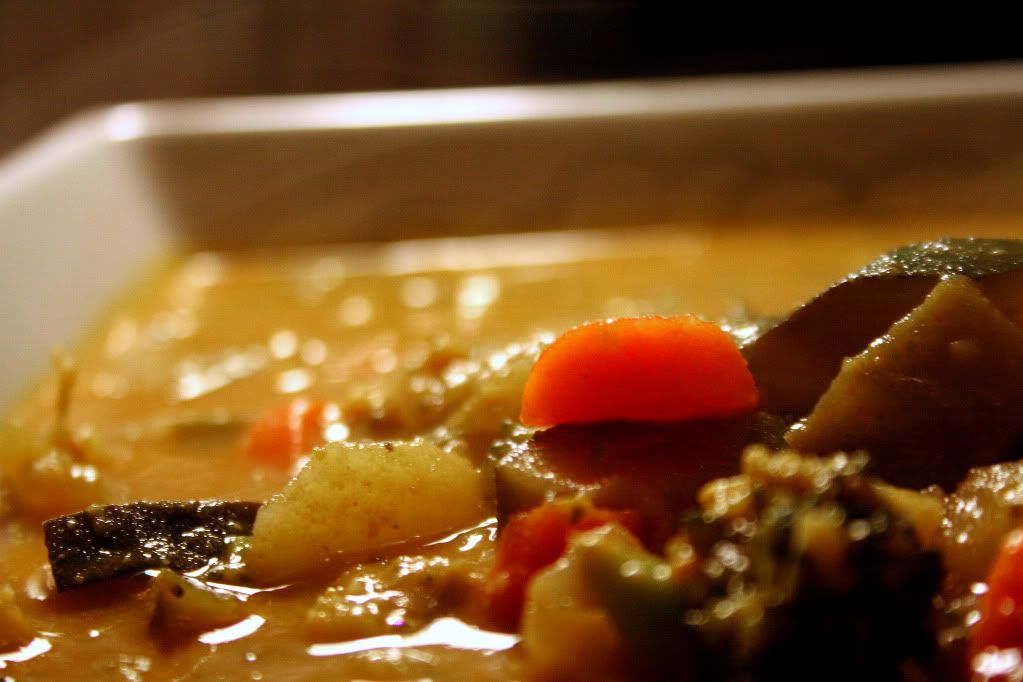 Soups are a staple in most vegan diets-- and even though it's summer, I wanted to expand my soup background. Peanut butter in soup is something I've known about and heard good things about, but have been hesitant to test out. Much like actually posting on this blog, I go through phases of wanting to try new and different foods-- the past week or so has been a testing ground for a lot of food, and the kitchen has been taking a beatdown-- especially for summer. Knives were everywhere, unnamed substances covered the counters and drooled down the cabinets, beans that were soaking were forgotten about-- it looked like a combat zone. The cats hid from the kitchen as the ipod stand blasted out the Descendents while the thermometer in the room easily broke 100. The only way to survive that kind of heat is to rock through it. My neighbors were not impressed.
Anyways, one recipe that came out of the chaos was this peanut butter vegetable soup. The peanut butter adds a thick texture to the soup that catches you off-guard if you've never had this before-- the texture is almost grainy, but in a good way. I used a peanut butter ground by the health foods store that's a block away, which is lists its ingredients as "peanuts" and that's it. I feel as though using a generic brand peanut butter will be a much different experience, as the oils would likely seperate in the soup from the peanut butter, giving it an interesting (not in the good way) taste. That said, I'd recommend forking over the extra pennies for the good stuff. Fortunately for us, the health food store's peanut butter is actually cheaper than store-bought!
4 cups vegetable broth
1 cup peeled and cubed potatoes
1 cup diced carrots
1 cup diced zucchini
1 cup broccoli florets
1 can (8 ounce) tomato sauce
1/2 cup chopped celery
1/2 cup chopped onion
1/2 cup chopped green bell pepper
2 cloves garlic, minced
1/2 cup peanut butter, oil and sugar free
1 tbsp chopped fresh parsley
salt to taste
ground black pepper to taste
In a large stock pot, combine the broth, tomato sauce, potatoes, and carrots. Bring the soup to a boil, and then reduce heat to simmer. Cook for about 10 minutes, until vegetables are mostly tender.
Add zucchini, broccoli, celery, onion, green pepper, and garlic. Simmer for about 8 minutes.
Add peanut butter, parsley, salt, and pepper, and stir until peanut butter is fully blended. Simmer for 3 minutes longer and serve!
Caloric Info

| | |
| --- | --- |
| Servings | 6 |
| Calories | 197.5 |
| Total Fat: | 5.7 grams |
| Sat Fat: | 0.9 grams |
| Polyunsat. Fat | 0.2 grams |
| Monosat. Fat: | 0.0 grams |
| Cholesterol: | 0 grams |
| Sodium: | 809.1 mg |
| Potassium: | 780.1 mg |
| Carbs: | 30.7 grams |
| Dietary Fiber: | 5.3 grams |
| Sugar: | 5.2 grams |
| Protein: | 6.3 grams |