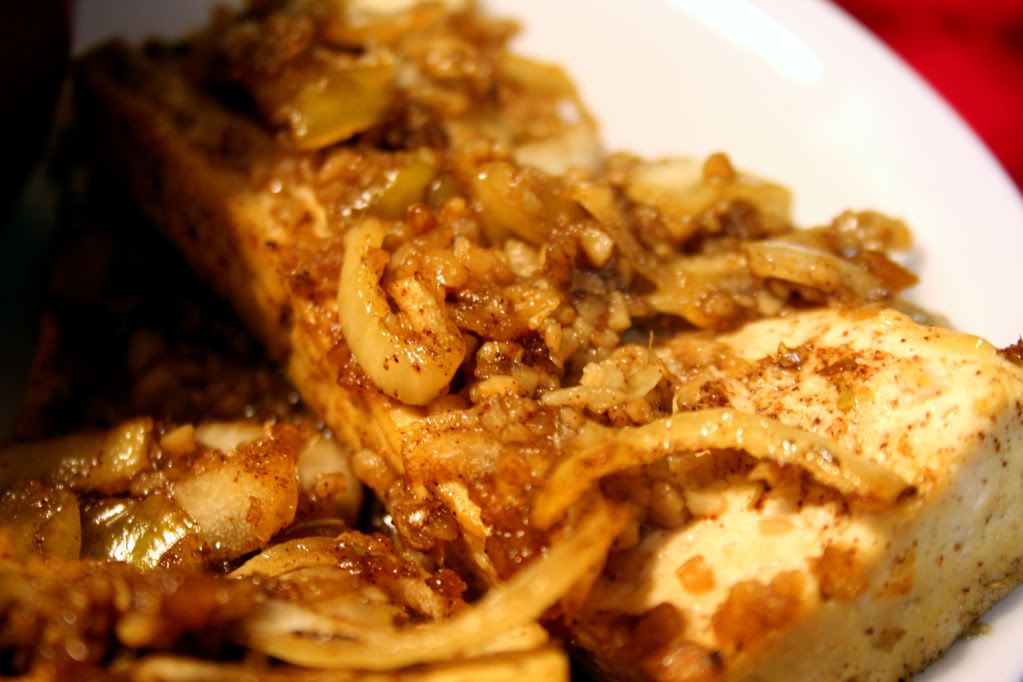 This Jamaican Jerk Tofu recipe is a great way to dress up tofu and also is a great meal when you're feeling like some reggae, margaritas, and a long afternoon lounging in the sun. We paired this with a Jamaican Apple Rice and some fresh, you guessed it, margaritas. Be prepared, because these take a bit to bake and dry up if you want themt o be nice and chewy. So open up the windows in the kitchen, and head outside and catch a tan! When the sun begins to set, you'll be ready to have yourself a delicious meal.
1 lb extra firm tofu, drained, sliced and pressed
1/2 large red onion, diced
4 cloves garlic
2 Tbs fresh ginger, grated
Juice of 2 limes
Zest of 1 lime
2 Tbs soy sauce
2 Tbs olive oil
3 Tbs pure maple syrup
1 Tbs dried thyme
2 tsp allspice
1/2 tsp cayenne
1 tsp nutmeg
1/2 tsp cinnamon
2 jalapeno peppers, seeded and chopped (you can cut back to one or omit entirely if you don't like spicy)
Slice the tofu into thick slabs (about 3/4 inch wide) then lay the slices on several layers of paper towels or on a clean dish towel and place a heavy plate on top. Let this sit for an hour. Pressing the tofu dries out the tofu, allowing it to absorb more of the marinade, making a more flavorful jerk.
Mix all the rest of the ingredients to create the marinade. Place the tofu slices in a bowl, pour in the marinade, making sure to coat all the slices, and cover. Let it sit for two hours, flipping the slices about halfway through.
Set the oven to 150 degrees. Place the slices on a baking tray with parchment paper and drizzle marinade left in the bowl. Turn tofu every hour for roughly 6-7 hours or until corners begin to crisp.