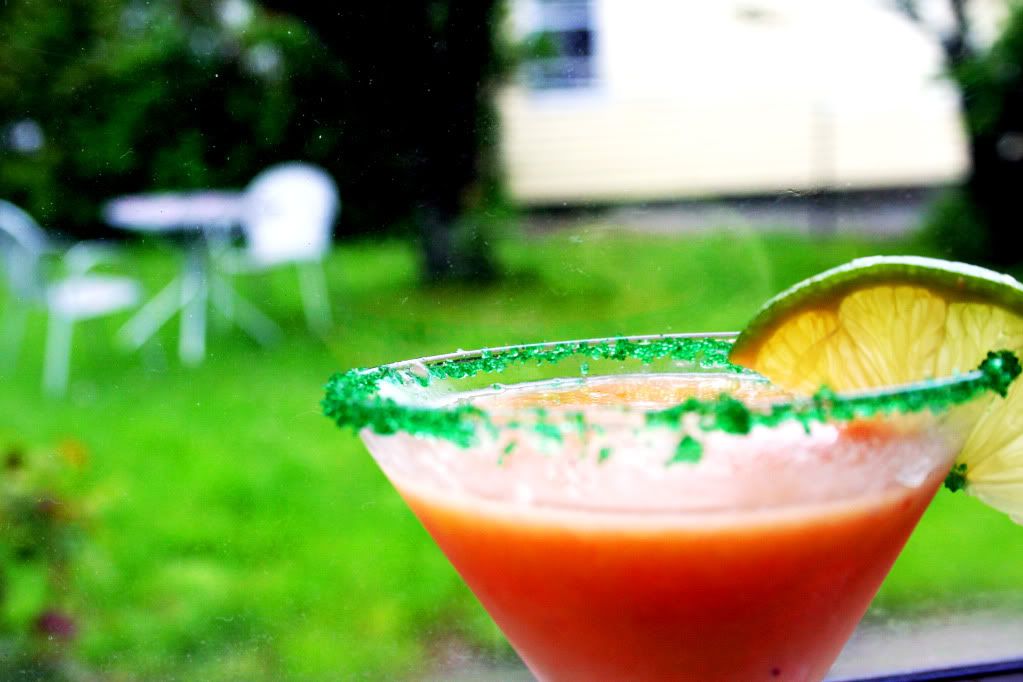 Not pictured: sunshine
It's finally feeling like summertime here and we celebrated with some frozen fruit drinks!
This one was pretty simple and inspired by some mangos and limes that needed to be eaten.
1 large mango
1/2 lime (use the other half for garnish and to sugar the edges of the glass)
2 tbsp coconut milk
1 cup (1/2 each) frozen strawberries and raspberries
1/2 cuppineapple chunks in juice
ice
Blend all ingredients. Use a lime slice to wet the edges of the glasses, and roll the glasses in coloured sugar. Pour in drink and add lime wedge to glass as garnish. Add an umbrella to class it up.
NB: You could also add some Triple Sec to make it a fun adult drink, too. We didn't, but it sounds pretty fantastic.
Caloric Info

| | |
| --- | --- |
| Servings | 4 |
| Calories | 80.5 |
| Total Fat: | 2.0 grams |
| Sat Fat: | 1.5 grams |
| Polyunsat. Fat | 0.2 grams |
| Monosat. Fat: | 0.1 grams |
| Cholesterol: | 0 grams |
| Sodium: | 5.0 mg |
| Potassium: | 213.1 mg |
| Carbs: | 17.2 grams |
| Dietary Fiber: | 3.4 grams |
| Sugar: | 11.6 grams |
| Protein: | 0.8 grams |