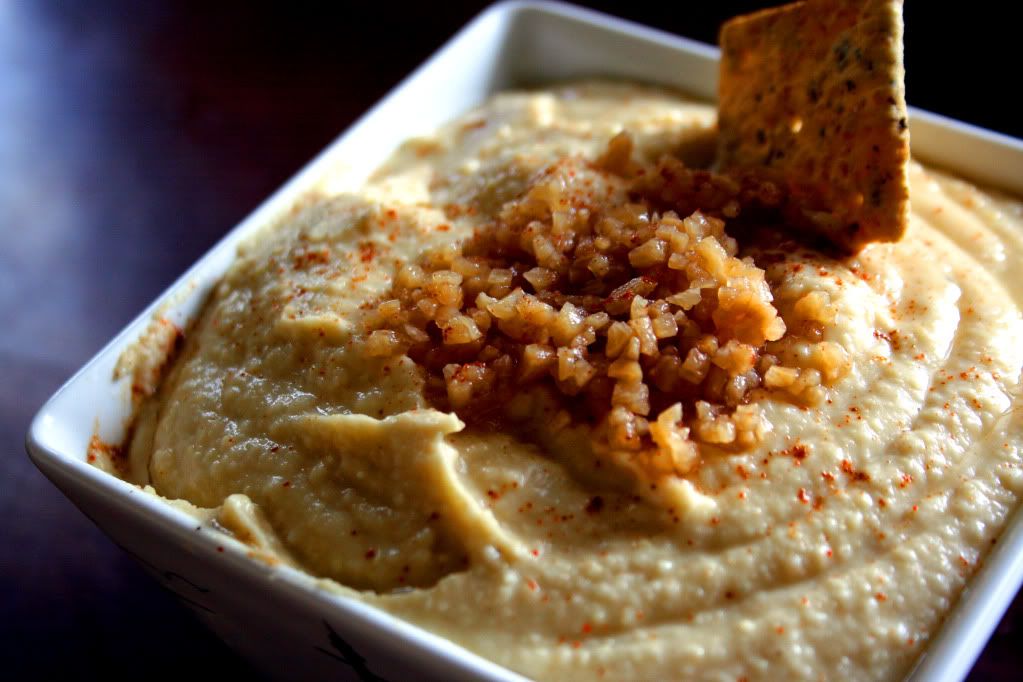 This hummus is best served cold with homemade pita chips.
You'll need a superhuman food processor or blender to get it well incorporated and creamy.
You'll need:
8 oz chickpeas (either drained can or soaked for 12-16 hours and then drained)
5 tbsp minced garlic
1/4 c olive oil
1/8 c water
2 tbsp tahini
red pepper flakes to taste
salt and pepper to taste
Blend chickpeas to paste. Add all ingredients in order and blend under smooth. Test for consistency (hummus should be homogenous and smooth, should be able to cling to spoon when turned over). and taste and adapt as needed.
Enjoy!
Caloric Info

| | |
| --- | --- |
| Servings | 20 |
| Calories | 92.8 |
| Total Fat: | 6.5 grams |
| Sat Fat: | 1.1 grams |
| Polyunsat. Fat | 1.4 grams |
| Monosat. Fat: | 3.8 grams |
| Cholesterol: | 0 grams |
| Sodium: | 107.7 mg |
| Potassium: | 77.6 mg |
| Carbs: | 5.4 grams |
| Dietary Fiber: | .8 grams |
| Sugar: | .7 grams |
| Protein: | 1.8 grams |