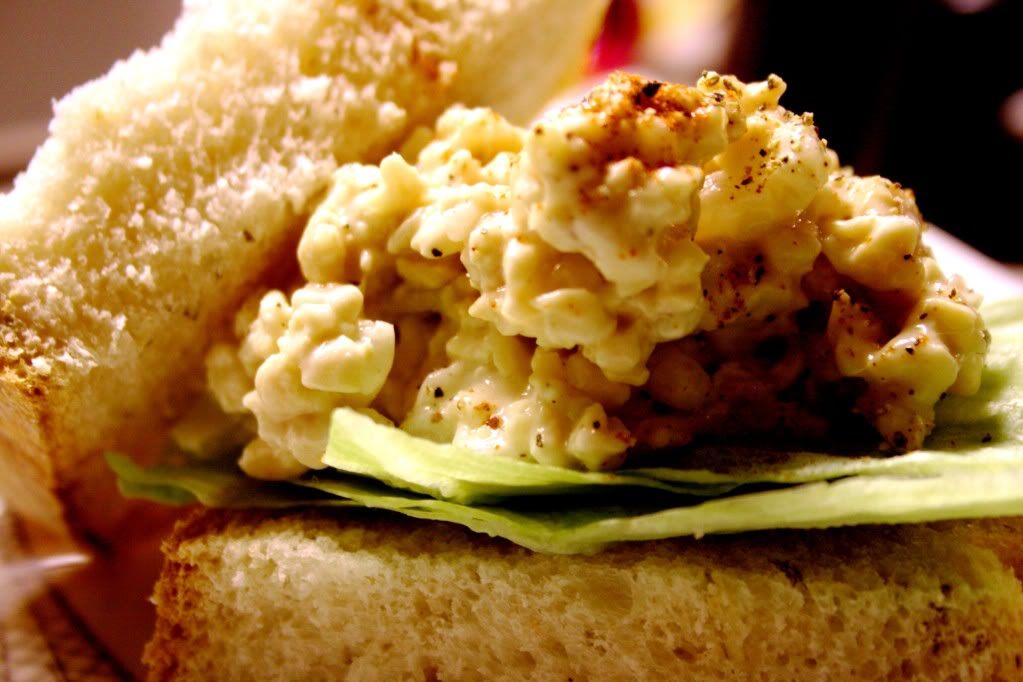 While it wouldn't fool a carnivore, this delightful little sandwich is definitely some vegan comfort food! It has more of a "tuna" consistency but leans more towards tasting like a faux chicken salad.
It tastes delicious with just some Vegannaise and some onions and celery, but for the more daring, try adding raisins and walnuts.
1 whole package tempeh
1/4 c Vegannaise or other Vegan Mayonnaise
2 stalks celery
1 small onion
salt and pepper to taste
1/4 tsp paprika
1/2 tsp poultry spice
Slice tempeh in small pieces, about 1/4" wide. In a saucepan, boil about 8 cups of water. Once the water has been boiling for about 1 minute, add in tempeh stripes. You'll have to boil it for about 25 minutes or so, until the tempeh is swollen and soft - when it falls apart when touched, you're good to go.
Drain water and let tempeh cool.
In a mixing bowl, combine Vegannaise with diced celery and onions. Stir in seasonings and taste test. Add raisins, apple slices and walnuts if desired.
Break up tempeh in small chunks and stir into dressing. Chill for 1 hour to allow flavours to settle.
Scoop tempeh salad onto desired bread and serve with lettuce, onion and tomato.
Caloric Info

| | |
| --- | --- |
| Servings | 4 |
| Calories | 180.9 |
| Total Fat: | 13.6 grams |
| Sat Fat: | 1.9 grams |
| Polyunsat. Fat | 1.6 grams |
| Monosat. Fat: | 1.3 grams |
| Cholesterol: | 0 grams |
| Sodium: | 101.8 mg |
| Potassium: | 260.2 mg |
| Carbs: | 7.3 grams |
| Dietary Fiber: | 0.7 grams |
| Sugar: | 0.0 grams |
| Protein: | 8.1 grams |