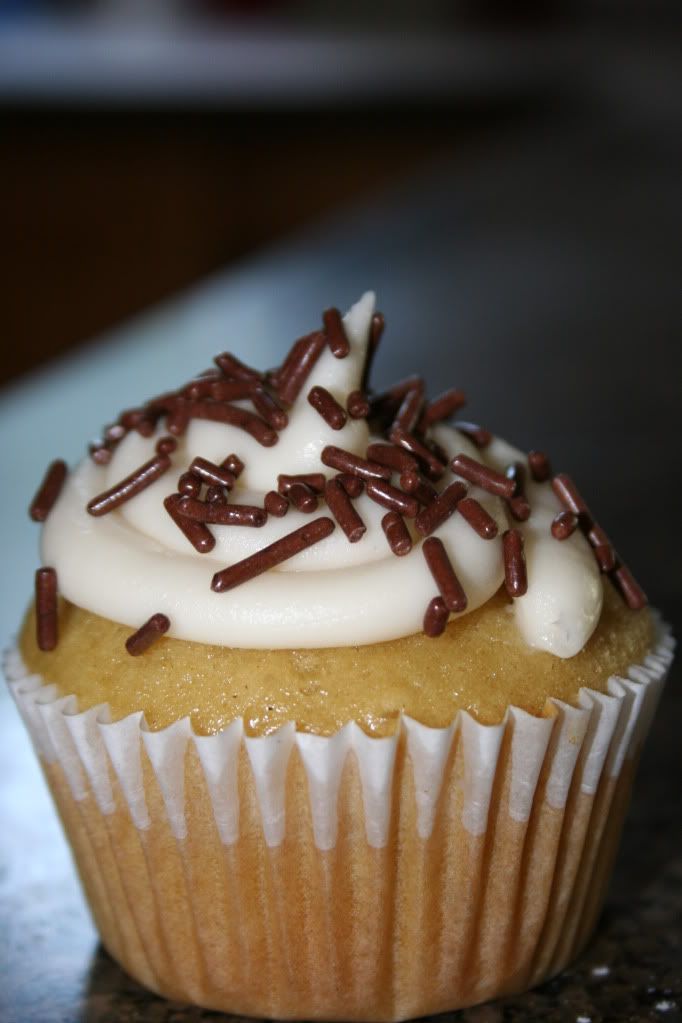 These are my godson's (J) favourite cupcake. He's 5 now, and he's got a pretty bad dairy allergy, so he loves it when I bring these to visit because they are treats he can eat (and his brother & sister, though they have no allergy, eat them too!)
The cake part is pretty much my standard go to recipe - you'll see me use it for just about every cake I make. But, here it is!
1 c vanilla soy milk (I typically prefer almond milk for these recipes, but J is also allergic to nuts)
1 tsp apple cider vinegar
3/4 c sugar
1/3 c oil
2 tsps vanilla extract
1 tsp caramel extract, if desired (sometimes I use a chocolate extract)
1 1/4 c flour
3/4 tsp baking soda
1/2 tsp baking powder
1/2 tsp salt
Mix the milk and the apple cider vinegar and let it curdle for a minute. Add in the sugar and the oil adn the extracts, and mix thoroughly.
Sift in the dry ingredients in order.
To the batter, you can add: chocolate chips, rainbow sprinkles, or oreo pieces to make these more heavenly.
For the frosting:
1/2 c shortening
1/2 c butter
3 c confectionary sugar
3 tsps vanilla extract
1-3 tsps vanilla non-dairy milk
Cream together the butter and shortening. Add in confectionary sugar, stirring after each 1/2 c addition. Add in extract, and non-dairy milk to desired consistency.
Pipe onto cool cupcakes.
For a more awesome variation, see below!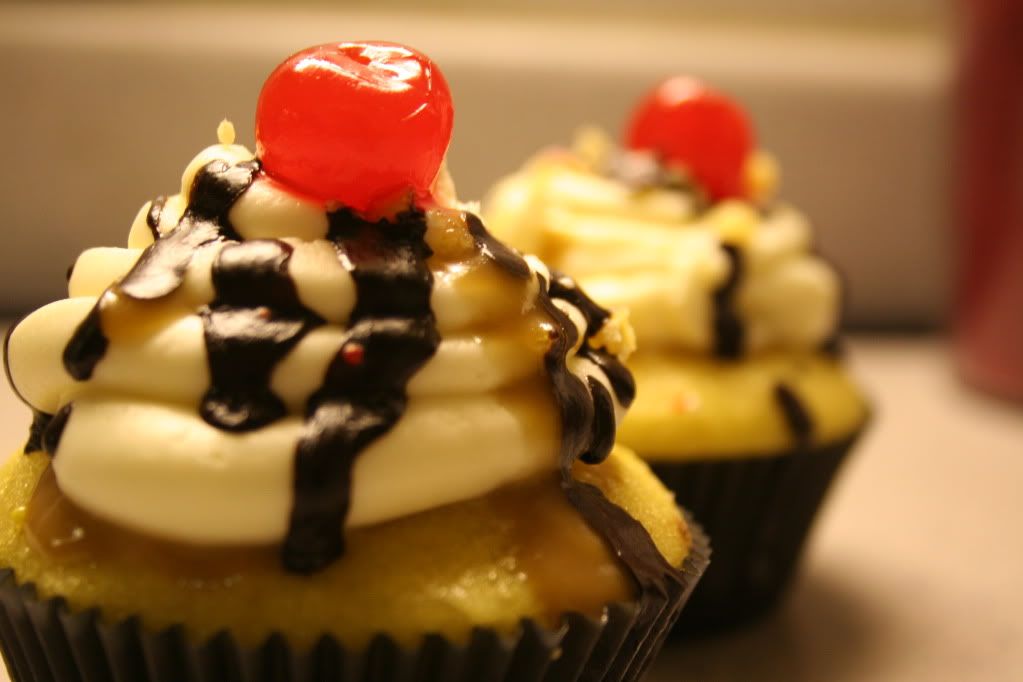 These guys are way more intense.
In a saucepan, melt 1/3 - 1/2 c non-dairy chocolate chips into 1/4 c non-dairy milk, using a rubber spatula to stir frequently to prevent burning. Let the ganache cool until smooth but pliable.
Next, you're going to make the butterscotch sauce, OR make a caramel ganache, depending on your preference.
The caramel is tricky, since most caramels use real milk. If you're not 100% vegan, you can use the ones at the store (but be careful, because some even use animal ingredients in their colouring).
So, I usually go this route:
In a saucepan, melt 1/3-1/2 c vegan white chocolate chips into 1/4 non-dairy milk. Add 1 tsp of organic caramel extract. Follow the same directions as the chocolate ganache.
For the butterscotch sauce, melt 1/3 c brown sugar, 1 tsp caramel extract, 1 tsp butter and 1 tsp non-dairy milk in a saucepan. Allow to cool.
For all ganaches/sauce, drizzle onto frosted cupcakes. Add sprinkles and walnuts and bananas and a cherry on top for an all-out masterpiece.