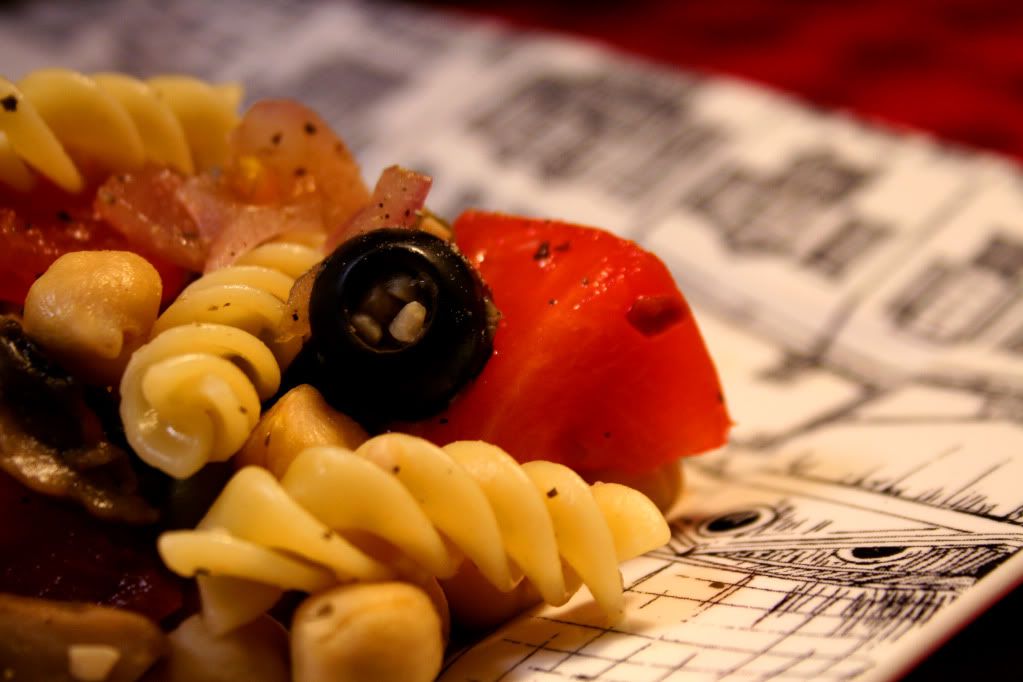 As the holidays pass by, it's easy to let go and gorge yourself on delicious things like
vegan cakes
,
vegan cupcakes
, and other delicious vegan goodies while letting the fresh veggies bought earlier in the week go to waste in the refrigerator. This recipe works perfectly to offset this bad habit we all have-- it's filled with healthy foods, and the name derives from the fact that all the ingredients tend to be in the typical Italian household (as ours is) and is a great way to clear out the fridge when all your fresh produce is about to go bad. It also works well as I continue to try and keep oils from my cooking! This is a tasty pasta dish filled with healthy stuff, so try it out!
1 cup coarsely chopped mushrooms
1/2 cup french cut green beans
2-3 cups your favorite pasta
1 15-oz. can of chickpeas, rinsed & drained or 1 1/2 cups chickpeas, cooked
3 tbsp minced garlic & 2 tbsp of the water it is in (jarred-- if not, regular water will be fine)
1/2 medium red onion, diced
2 tomatoes, quartered
2 tsp basil
2 tsp oregano
1/4 tsp red chili pepper flakes
1/2 tsp sea salt
3 twists of ground black pepper
zest of one orange
10 California pitted black olives, halved
Get a pot of water boiling, and warm up a frying pan over medium-low heat.
After 3-5 minutes, put the 2 tbsp of garlic water in the frying pan, and after 30 seconds, add the onions and mushrooms, and after two minutes, add the spices, green beans and orange zest.
When the water begins to boil, add the pasta and cook until 'al dente'-- when it's still stiff but almost finished. Add the chickpeas. In the frying pan, this is a good time to add the garlic.
3 minutes later, pour 1/2 cup of the water in the pasta pot into the frying pan, and drain the pasta in the sink. Add the olives to the frying pan.
After the pasta/chickeas are drained, add them to the frying pan and toss the tomatoes on top, quickly covering them with the water/sauce from the pan for 3 minutes.
Serve hot or cooled.
Caloric Info

| | |
| --- | --- |
| Servings | 4 |
| Calories | 290.9 |
| Total Fat: | 3.6 grams |
| Sat Fat: | 0.5 grams |
| Polyunsat. Fat: | 1.1 grams |
| Monosat. Fat: | 1.4 grams |
| Cholesterol: | 0 grams |
| Sodium: | 515.1 mg |
| Potassium: | 479.0 mg |
| Carbs: | 57.0 grams |
| Dietary Fiber: | 11.7 grams |
| Sugar: | .2 grams |
| Protein: | 11.7 grams |