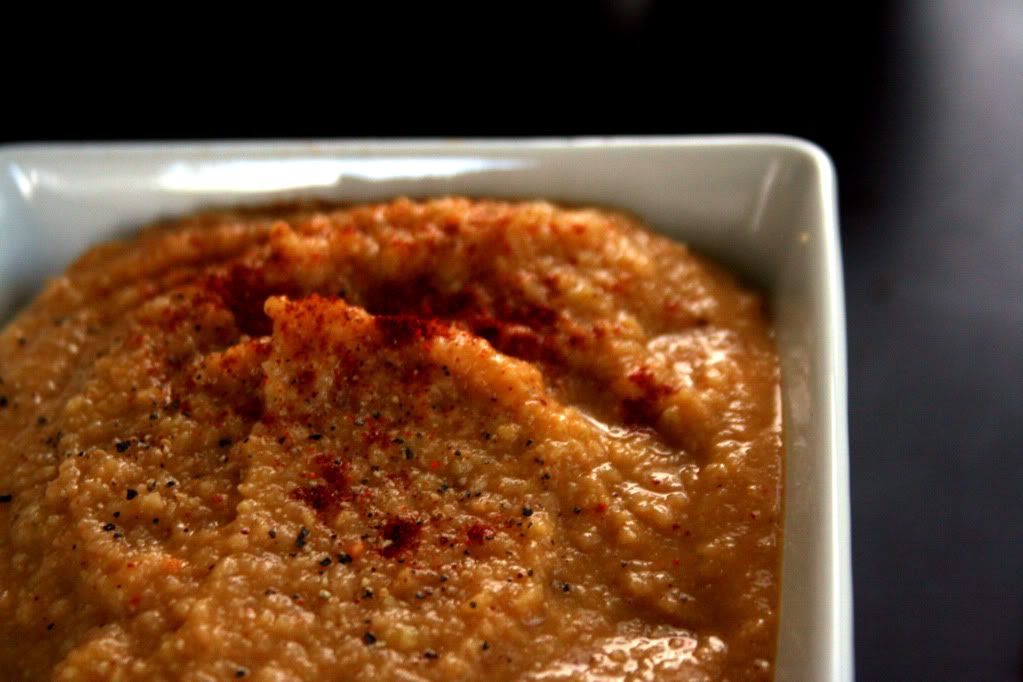 As I continued to strive to make vegan recipes that did not incorporate oil yesterday, I found myself hankering for some hummus. While nearly caving multiple times as I walked down the isle of the local Trader Joe's, I began to concoct in my head a recipe based on some spreads that I had eaten before, and this was the final result. I ultimately ended up putting it on a wrap with fresh cut tomatoes, lettuce, red onions, Italian peppers, and green peppers. This is delicious and I cannot wait to make it in the summer with garden picked tomatoes and a glass of lemonade.
2 tablespoons garlic, minced w/o oil.
15 ounces chickpeas, drained
2 tbsp. lime juice
1/2 tsp cayenne pepper
1 tbsp. chopped red onion
3 tbsp. diced jarred peperoncini
1/4 tsp. chili powder
1/2 tbsp. onion powder
sea salt to taste
With the food processor running, drop in the garlic and peperoncini.
Add the chickpeas and lime juice and begin processing. If this appears to be a bit dry, add some water, a tablespoon at a time, until it thickens to your preference.
Add the remaining ingredients and process until smooth. Adjust salt to taste.
At this point, the recipe is done, it's merely a matter if you'd like to enjoy this spread on a sandwich, a wrap, or just simply as a dip for some celery and carrots! Again, pictures will be up shortly, but I was unfortunately unable to hold myself back on this one after cooking it, but I do have more in the fridge for a sandwhich in the near future...
Caloric Info

| | |
| --- | --- |
| Servings | 4 |
| Calories | 138 |
| Total Fat: | 1.3 grams |
| Sat Fat: | 0.1 grams |
| Polyunsat. Fat: | 0.6 grams |
| Monosat. Fat: | 0.3 grams |
| Cholesterol: | 0 grams |
| Sodium: | 409.1 mg |
| Potassium: | 214.9 mg |
| Carbs: | 26.7 grams |
| Dietary Fiber: | 5.1 grams |
| Sugar: | 4.0 grams |
| Protein: | 5.6 grams |