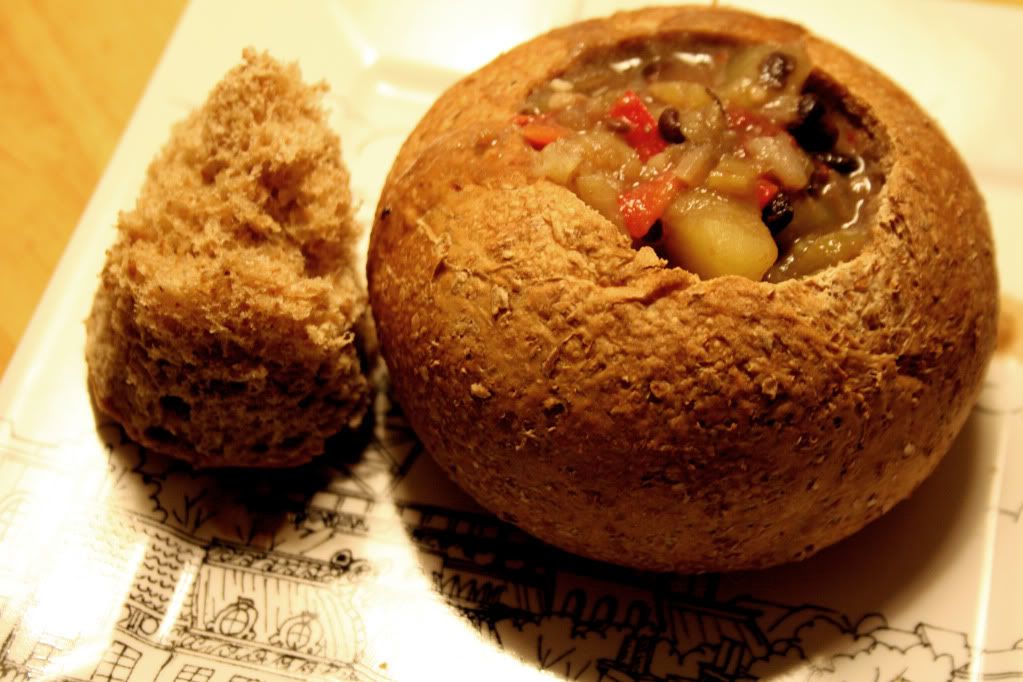 We often make vegetable soups towards the middle of the week (we go to the local market where you can buy fresh fruits and veggies every Friday) as a way to use up whatever stock we have of things about to go bad; and although it tends to be pretty economical, since we have a standard repertoire of vegetables we always use, our soups never really deviate from the typical vegetables we always buy. This week, I decided I wanted to try and move away from that a little bit, and came up with a fantastic bean soup in a
bread bowl
that was a delicious evening treat. Uncharacteristically not spicy (in comparison to our usual soups) and extremely thick, this reminds me a bit of the black bean soup they serve at Panera. I find that the picture does not do the soup justice, in that the picture doesn't show the darkness of the broth from the beans themselves. The only way to see it I guess would be to try it yourself!
1 tbsp olive oil
1 large white onion, chopped
1 stalk celery, diced
2 carrots, chopped
4 tbsp garlic, minced (in water)
2 tbsp chili powder
A few grates of fresh ground black pepper
4 cups vegetable broth
4 15-oz. cans of black beans, drained and rinsed
1 can kernel corn, drained and rinsed
1 can crushed tomatoes
3 medium potatoes, skinned and diced
1/4 cup olives, rinsed and diced
1/2 red bell pepper, diced
Heat oil in a large pot over medium-high heat.
Saute garlic for three minutes, and add onion and celery.
Add seasonings, and cook for one minute, and turn off burner..
Add the beans, and with a potato mincer, crush beans uniformly (but not completely) to desired consistency. Remember that there will be vegetable broth being added to the recipe, so it will be more watery than it appears. This might take a few times of making this soup to know the exact amount of crushing for the consistency you prefer.
Turn burner back on to medium heat and stir in vegetable broth and corn. Bring to a boil.
Bring remaining ingredients and put in the soup, allowing to cook until potatoes soften up enough and then continue to simmer for another ten minutes.
When you're ready to enjoy, cut open a bread-bowl and enjoy!
Caloric Info

| | |
| --- | --- |
| Servings | 8 (not inc. breadbowl) |
| Calories | 428.8 |
| Total Fat: | 4.7 grams |
| Sat Fat: | 0.8 grams |
| Polyunsat. Fat: | 1.0 grams |
| Monosat. Fat: | 2.5 grams |
| Cholesterol: | 0 grams |
| Sodium: | 762.1 mg |
| Potassium: | 1298.2 mg |
| Carbs: | 77.9 grams |
| Dietary Fiber: | 22.5 grams |
| Sugar: | 3.3 grams |
| Protein: | 22.2 grams |