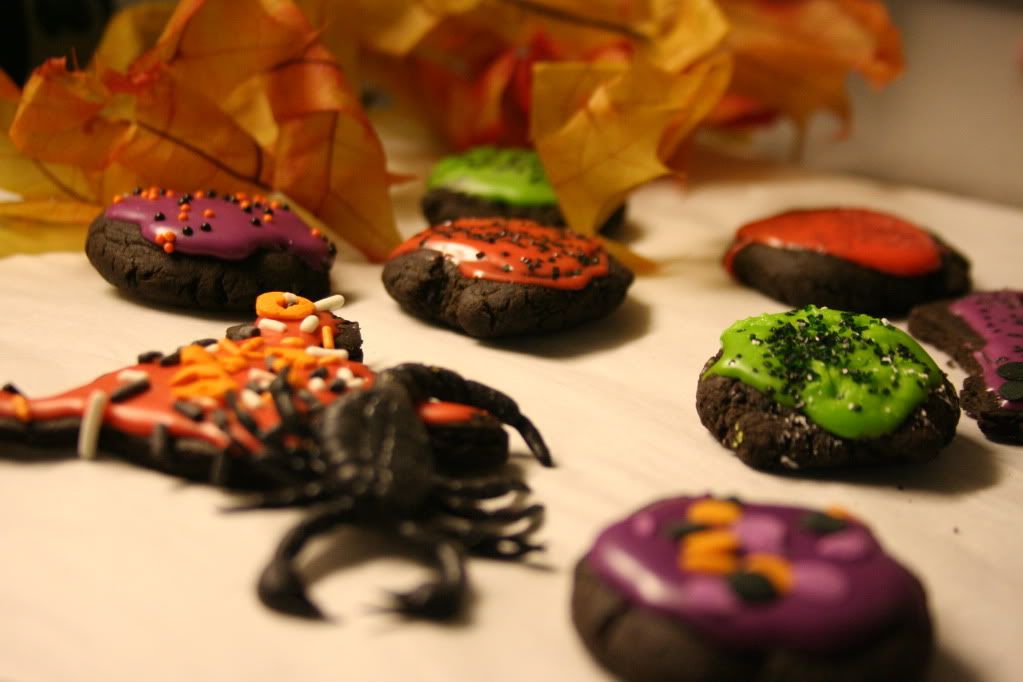 A confession: the picture of these guys isn't great. As you can tell, I was feeling a bit hurried by everyone at the Halloween party eating them before I got a good picture - and all of them were gone only moments later. I barely had time to frost these guys! My advice: make and decorate these delicious chocolate cookies before your Halloween party guests arrive.
2/3 c sugar
1/4 canola oil
1/4 c vanilla almond milk
1 tsp vanilla extract
1/2 tsp imitation butter extract
1 c AP flour
1/2 cocoa
1 tbsp arrowroot
1/2 tsp baking powder
1/t tsp salt
Mix the sugar, oil, milk, and extracts in a large bowl. Sift in the dry ingredients until well combined.
Refrigerate
dough for an hour or so, just so it is easier to handle when you are using cookie cutters. (If you are just making these as drop cookies, there's no need to
refrigerate
.)
When cooled, frost and add sprinkles and coloured sugar as desired.
Quick Frosting:
4 c confectionery sugar
4-8 tbsp almond milk
1/2 tsp vanilla extract
food colouring as desired
Separate into batches and add desired colours. Spread with a frosting knife over cooled cookies and add accoutrements.