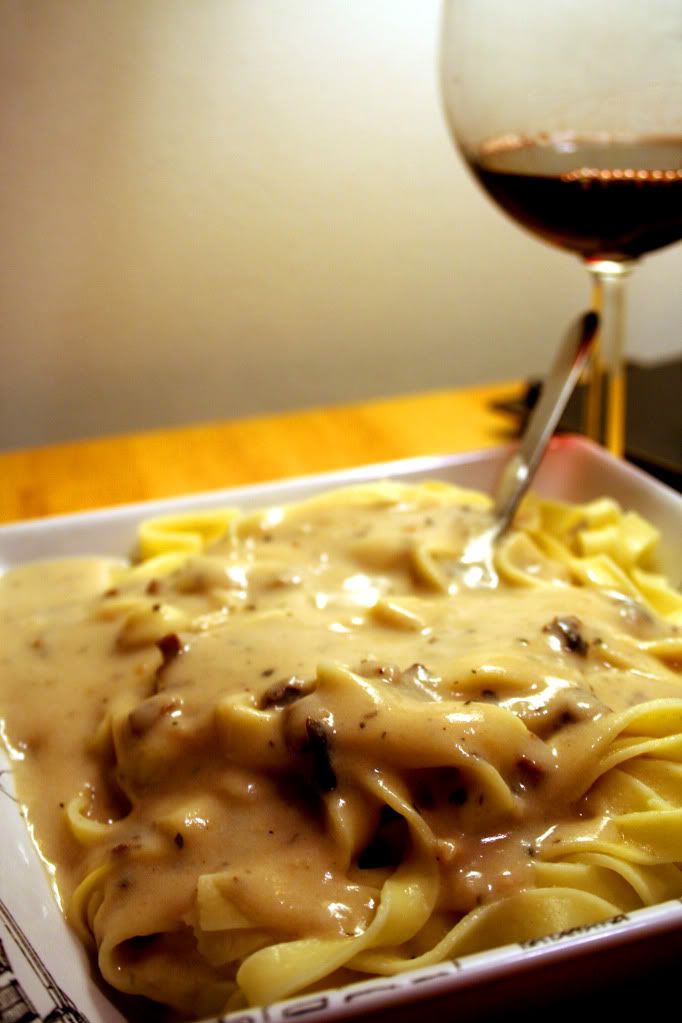 This vegan sauce is a delicious alternative to making white or red sauce. It's also a great way to use up leftover mushrooms from other recipes, like seitan. It's relatively low-fat (at least in comparison to its non-vegan counterpart), and definitely healthier than an alfredo sauce. I find it works best on pasta, but you can use it for tons of different things (toss it on some cut up chick'n cutlets being the first to come to mind. Mmm... mental note, make that). Anyways, here you go-- give it a try!
1/4 white onion, diced
4 garlic cloves, minced
8 button mushrooms, sliced
1 vegetable stock cube, undiluted
1 cup white wine
2 cups unsweetened soy milk
2 tbsp olive oil
2 tbsp vegan butter alternative (we usually use Earth Balance, but whatever suits your fancy)
2 tbsp unbleached flour
1 tsp basil
1/4 tsp sea salt
1/2 tsp black pepper
Heat a frying pan with the olive oil and saute the garlic and onions for two minutes. Add the mushrooms after the two minutes and continue to saute, stirring occasionally. You do not want them to change color.
Add the wine and allow to simmer for five minutes (or until the wine boils down and has largely soaked in).
Crumble the veggie cube and allow it to dissolve into the mix-- this should only take a minute or so).
Add the soy milk. After 3-5 minutes, add the butter alternative and sift the flour into the sauce. Sift slowly and continuously stir, keeping it from clumping.
Continue to let it simmer and allow to thicken to your taste. For the consistency seen in the picture, I waited another five or so minutes.
Add spices and enjoy!
Caloric Info

| | |
| --- | --- |
| Servings | 6 |
| Calories | 144.6 |
| Total Fat: | 9.5 grams |
| Sat Fat: | 1.9 grams |
| Polyunsat. Fat | 2.4 grams |
| Monosat. Fat: | 4.8 grams |
| Cholesterol: | 0 grams |
| Sodium: | 238.9 mg |
| Potassium: | 144.9 mg |
| Carbs: | 6.1 grams |
| Dietary Fiber: | 0.5 grams |
| Sugar: | 2.4 grams |
| Protein: | 2.8 grams |