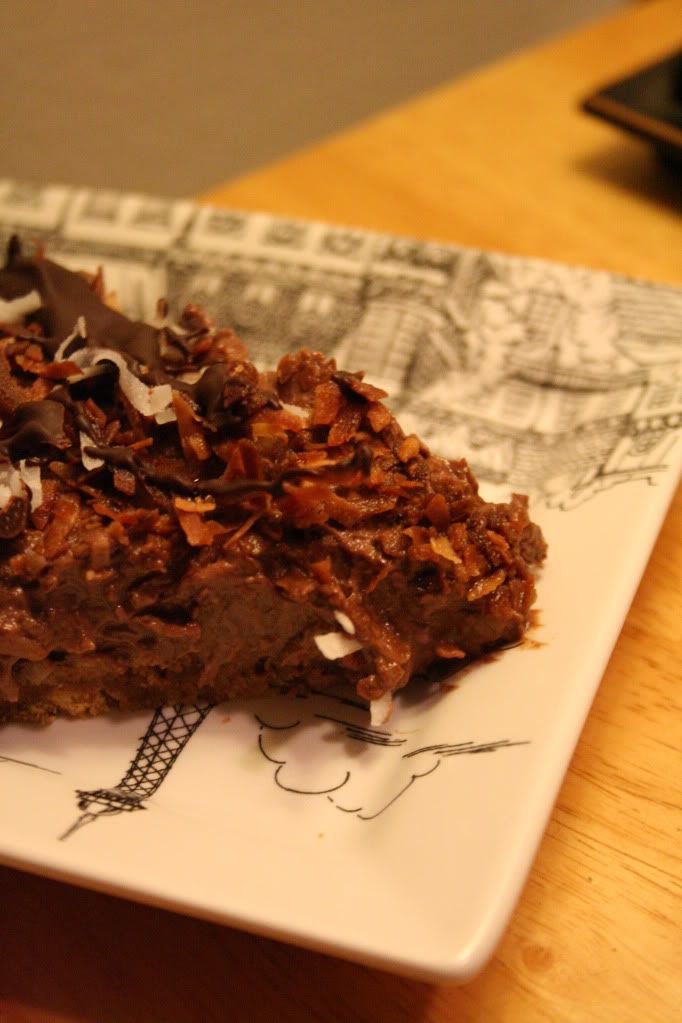 12 oz. Silken Tofu, like Mori Nu (not firm)
6 oz semi-sweet chocolate
2 tbsp non-dairy butter
1/4 c non-dairy milk
2 tbsp coconut oil
1 c shredded coconut, sweetened
1 prepared graham cracker crust
OR
1 c graham cracker crumbs
1/4 c non-dairy butter
4 tbsp brown sugar
Preheat the oven to 350 degrees.
Toast 3/4 c coconut in the preheated oven for 5-10 minutes until desired colour - a golden brown is pretty good.
To make the filling:
Empty contents of silken tofu into a blender or food processor. Add soymilk and blend to smooth.
In a microwavable container, melt the chocolate and the butter together. once melted, add the coconut oil and stir.
Add to tofu puree and blend again until the chocolate is completely combined and the mixture reaches a uniform colour.
Pour the mix into the graham cracker crust.
To make the crust:
Crush graham crackers into coarse crumbs.
In a microwavable container, melt the butter with the brown sugar.
Combine the liquid with the graham crumbs and push into a pie pan until there are no holes or spaces, and it is evenly layered.
Bake at 350 degrees for 10-15 minutes.
After the pudding is set, top with the 3/4 c toasted coconut and the last 1/4 c of the untoasted. For serving, add chocolate shavings.
NB: It is better to use silken tofu if you are serving the same day. Silken tofu tends to separate after a day or so. If you are planning a day or two ahead, use a softer tofu and up the soymilk to achieve the same creamy texture.
Caloric Info

| | |
| --- | --- |
| Servings | 8 |
| Calories | 317.1 |
| Total Fat: | 21.6 grams |
| Sat Fat: | 9.5 grams |
| Polyunsat. Fat: | 3.2 grams |
| Monosat. Fat: | 6.5 grams |
| Cholesterol: | 0 grams |
| Sodium: | 195.5 mg |
| Potassium: | 113.2 mg |
| Carbs: | 32.2 grams |
| Dietary Fiber: | 1.9 grams |
| Sugar: | 21.2 grams |
| Protein: | 3.0 grams |