Chocolate and peanut butter are one of the best flavour combinations ever. And what could be better than celebrating their love in cupcake form with a vegan fluff frosting? Answer: Pretty much nothing.
The cake:
3/4 c almond milk 2 tsp apple cider vinegar 1/2 c Peanut Butter & Co Dark Chocolate Dreams Peanut Butter 1/3 canola oil 2/3 c sugar 2 tbsp agave nectar 1 tsp vanilla extract 1/2 tsp chocolate extract (or the fairly elusive peanut butter extract) 2 tsp milled flaxseed 1 c AP flour 1 tsp baking powder 1/2 tsp baking soda 1/4 tsp salt
Curdle the almond milk with the vinegar and set aside. Cream the peanut butter, oil, sugar, agave, extracts, and flax seed, then add in the almond milk. Sift in all dry ingredients and mix until just combined.
Spoon into liners and bake for 22-25 minutes.
If you don't have a chocolate peanut butter, add in 2-5 tbsps of cocoa powder to the batter with dry ingredients. Look to keep a basic cupcake batter consistency after the addition. Or, use regular peanut butter, skip the cocoa powder, and make a peanut butter cupcake. You can use the fluff frosting below, or make a chocolate mousse topping (even further below).
Fluff frosting: 1/2 c Suzanne's Ricemellow Vegan Fluff (or other Non-Dairy fluff) 1 c confectionary sugar
3-6 tbsp almond milk
1 tsp vanilla extract
1/2 tsp peanut butter extract, or chocolate extract
1/4 c veggie shortening
1/4 c vegan butter
Combine the shortening and butter until
homogeneous
and smooth. Add in the fluff (a tip: to get the fluff to come easily off your spoon, spray it first with a bit of canola oil) and mix well. Add in the first 2 tbsps of almond milk, and the lot of the confectionary sugar, and mix well, stirring out any lumps. Add the extracts, and more almond milk if the frosting seems too thick. If you want the frosting to be whiter (as the vegan fluff is a bit yellow) add in white food colouring.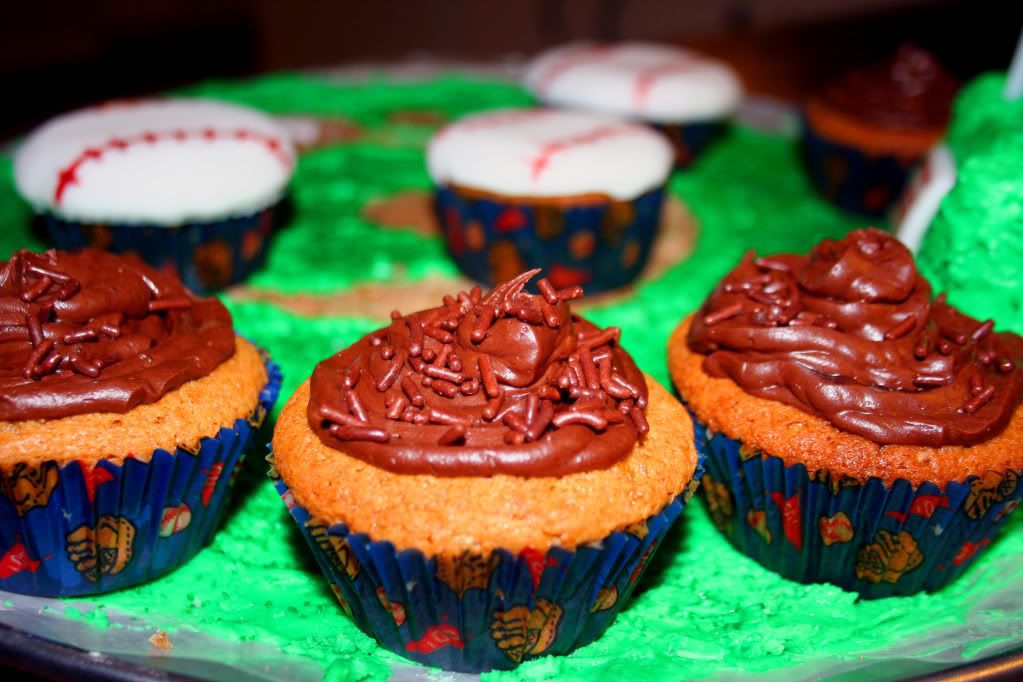 These sports cupcakes are a regular peanut butter cupcake with a Chocolate Mousse topping. Make the cupcake as instructed, with a chunky peanut butter. Then top with either recipe:
Frosting 1:
Use this frosting if you are planning to pipe, as shown above.
1/4 c vegetable shortening
1/4 c vegan butter
2 cups confectionery sugar
2 tsp vanilla extract, or chocolate extract, or a combo
1/2 c cocoa, sifted
3-6 tbsps of almond milk
Add all ingredients and mix well, eliminating any clumps. Adjust almond milk to desired consistency.
Frosting 2:
This frosting is infinitely more creamy and delicious, and has less of that confectionery sugar too-sweet taste, but doesn't usually pipe well.
1 package refrigerated tofu, like Nasoya (try the Dark Chocolate)
2 -3 tbsp melted vegan butter, cooled
8 oz melted semi-sweet chocolate
almond milk (to consistency - it's difficult to guess based on the choice of tofu, the chocolate, and your desired consistency)
Melt the chocolate slowly over low in a saucepan (not-nonstick). Melt and cool butter in microwave or toaster over, allowing it to cool a bit. Add all ingredients to blender or processor, blend until very smooth and at your desired consistency (add only a bit of almond milk at first, and then add more if necessary). Cool for 1 hour in refrigerator, then heap on cooled cupcakes.