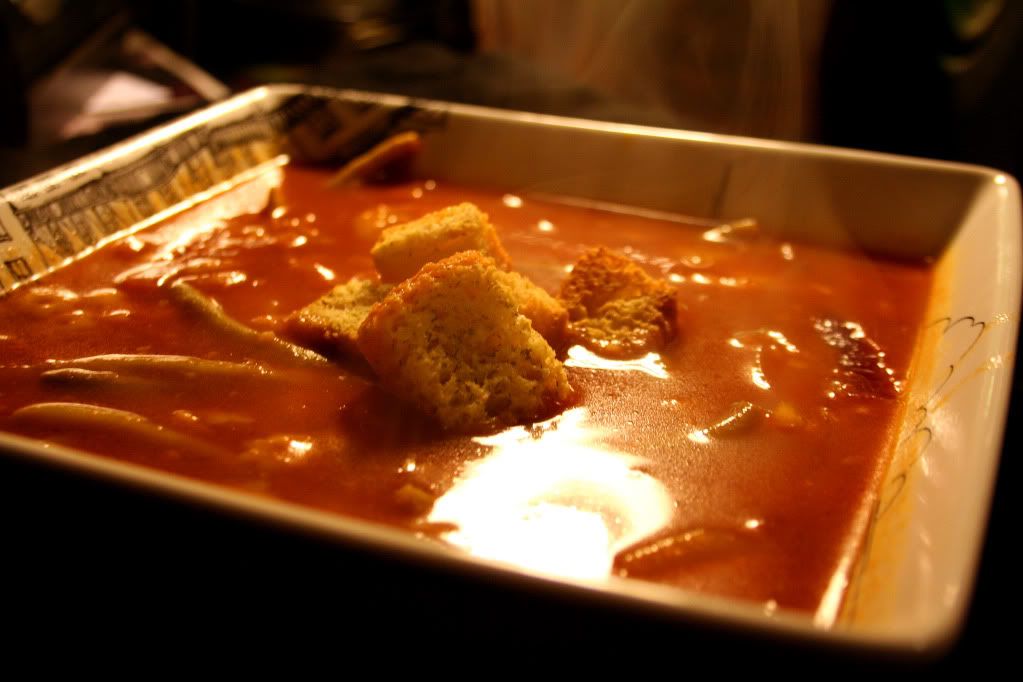 During the winter time it's easy to want to snuggle up with a bowl of tomato soup and grilled cheese. Unfortunately, post-new year's the grilled cheese goes out the window until at least March when you give up that diet. Fortunately, that doesn't mean you can't have the thick tomato soup. This soup is a tomato soup in texture with more, well, body. The vegetables make it nice and hearty without adding the fattiness of grilled cheese.
1/2 tbsp olive oil
2 cups chopped white onion
1 tsp dried rosemary
2 garlic cloves, minced
4 cups chopped tomato
3 cups water
1 cup vegetable broth
1 (14-oz) can chickpeas, drained
1 cup dried zucchini
1/2 cup frozen green beans
1/2 cup frozen french-cut green beans
1/3 cup uncooked stellini
2 tsp dried parsley
crushed black pepper
In a large pot, heat oil over medium heat.
Add onion and garlic, and sauté 10 minutes.
Add tomato, water, vegetable broth, and chickpeas, and bring to a boil.
Cover, reduce heat, and simmer 30 minutes.
Add zucchini, peas and green beans; bring to a boil over medium-high heat.
Reduce heat; simmer 15 minutes.
Stir in pastina, parsley, and pepper, and cook 10 minutes.
Garnish with croutons, as picture.