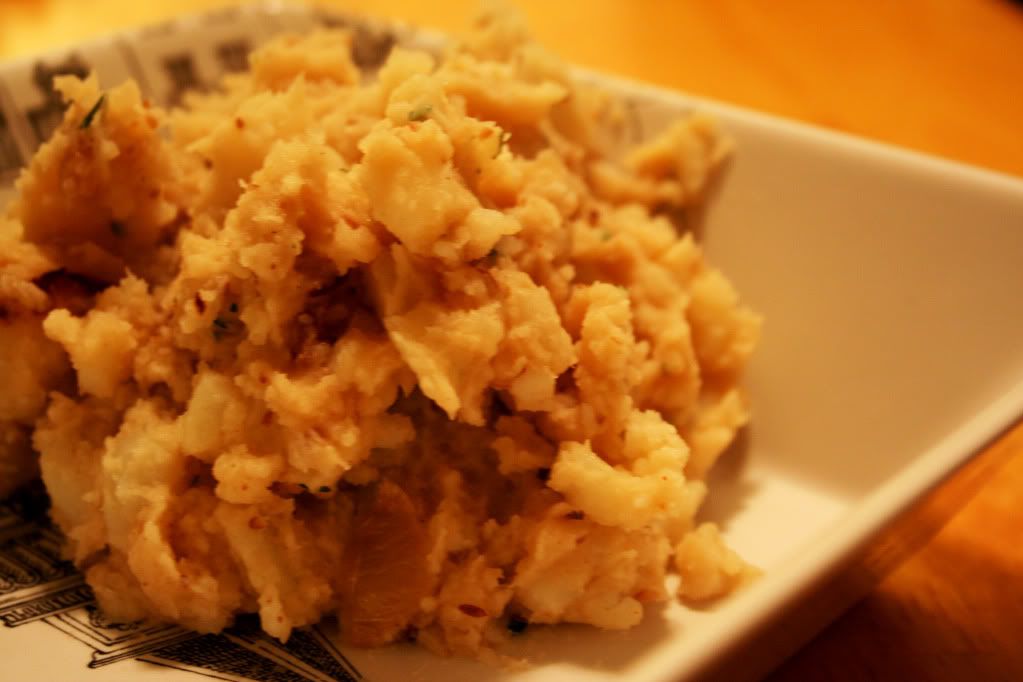 These cajun styled mashed potatoes are a delicious side to faux ribs, and complete a fantastic vegetarian/vegan dinner-- especially in the winter when that little extra spice keeps you feelin' warm. These potatoes are rich, creamy, spicy, and --best of all-- a cheap side! We have a great recipe to side with this for tempeh strips brined in barbecue sauce. I find with this recipe, the amount of spices you add is surprisingly less spicy than you'd expect-- so when you look at the ingredients, don't get nervous-- you'll be okay!
Ragin' Cajun Mashed Potatoes with Caramelized Onions
2 pounds potatoes, peeled and cut into 1/2" pieces
5 tablespoons virgin olive oil
1 large white onion, diced
2 tablespoons fresh ground cumin
1/3 teaspoon cayenne
2 teaspoons sea salt
1/2 unflavored unsweetened rice milk
2 tablespoons minced fresh thyme
1/2 teaspoon black pepper
Peel and slice the potatoes-- place in a pot of water with a teaspoon of salt in it and bring to a boil. Let this boil for 25 or so minutes.
While potatoes boil, mix onions, olive oil, cumin, cayenne, and 1 teaspoon of the salt in a mixing bowl. When everything has mixed well, place on warm (not hot!) medium-sized saute pan over low-medium heat until well caramelized, about 20 minutes (roughly at the time when the potatoes should be done).
Remove potatoes from heat, drain, and return potatoes to the pot to be smashed. They should be really soft and should not require a potato masher-- just a fork or wooden spoon.
Combine rice milk and thyme in a small sauce-pan over low heat; give it a minute or two and combine the onion mixture and stir. Stir occasionally for a few minutes, and combine with potatoes.
Using a wooden spoon (preferably the before-said wooden spoon-- makes dish-washing easier later!), whip everything together for about a minute. The coloring should become a bit more uniform as the sauce permeates the now fluffy potatoes.
Top with black pepper and serve!
Not too bad, right? Another delicious nutritious vegan / vegetarian meal for all to enjoy!
Caloric Info

| | |
| --- | --- |
| Servings | 6 |
| Calories | 363.2 |
| Total Fat: | 12.2 grams |
| Sat Fat: | 1.6 grams |
| Polyunsat. Fat: | 1.2 grams |
| Monosat. Fat: | 8.6 grams |
| Cholesterol: | 0 grams |
| Sodium: | 530.1 mg |
| Potassium: | 1369.6 mg |
| Carbs: | 58.8 grams |
| Dietary Fiber: | 7.4 grams |
| Sugar: | 2.4 grams |
| Protein: | 6.9 grams |