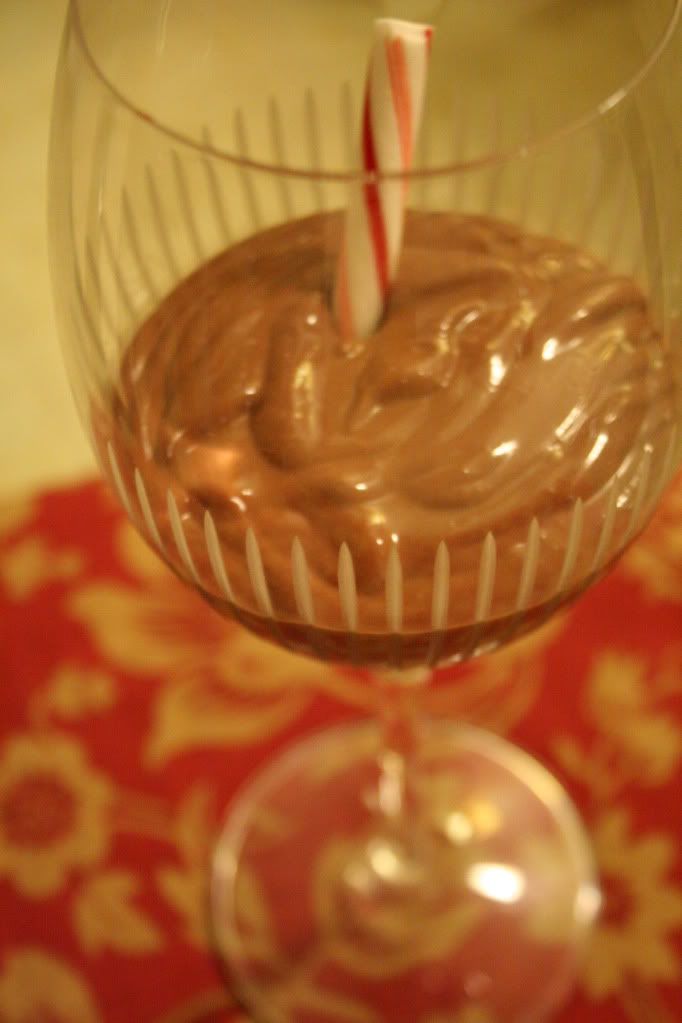 This mousse is a light and delicious way to end any dinner. And it's pretty simple, too.
You need a double boiler for this recipe. (If you don't have one, simply fill on 2-qt pan with water, and let it boil. Then place a smaller pan inside of it). You'll also need a blender/mixer for this one.
1 package silken tofu
6 semi-sweet vegan baking squares (about 1 cup chocolate chips)
1 teaspoon margarine (Earth Balance works well)
1 teaspoon peppermint or mint extract*
2 tablespoons non-dairy milk of your choice
1 Peppermint Candy Cane for garnishing
Put tofu in mixer and set aside
Using a double boiler, melt the margarine completely. Then add the chocolate and melt. Make sure not to burn it.
When it is entirely melted, add the extract. Stir.
At this point, taste the chocolate. If it is not as sweet as you like, add a little simple syrup - especially if you are using unsweetened chocolate instead of semi-sweet.
When you are satisfied with the mix, add it into the mixer with the tofu.
Add the soy milk and mix well - make sure the tofu is entirely incorporated.
Pour into serving dished (wine glasses work also if you don't have fancy custard dessert cups) and refrigerate overnight.
To serve, garnish with peppermint stick.
*If you're not that into mint, you can try different extracts. Almond, vanilla, hazelnut and coffee are a few of our favorites.
Caloric Info

| | |
| --- | --- |
| Servings | 6 |
| Calories | 307.6 |
| Total Fat: | 26.1 grams |
| Sat Fat: | 10.1 grams |
| Polyunsat. Fat | 4.7 grams |
| Monosat. Fat: | 9.7 grams |
| Cholesterol: | 0 grams |
| Sodium: | 430.1 mg |
| Potassium: | 447.4 mg |
| Carbs: | 13.6 grams |
| Dietary Fiber: | 5.1 grams |
| Sugar: | 2.0 grams |
| Protein: | 15.1grams |