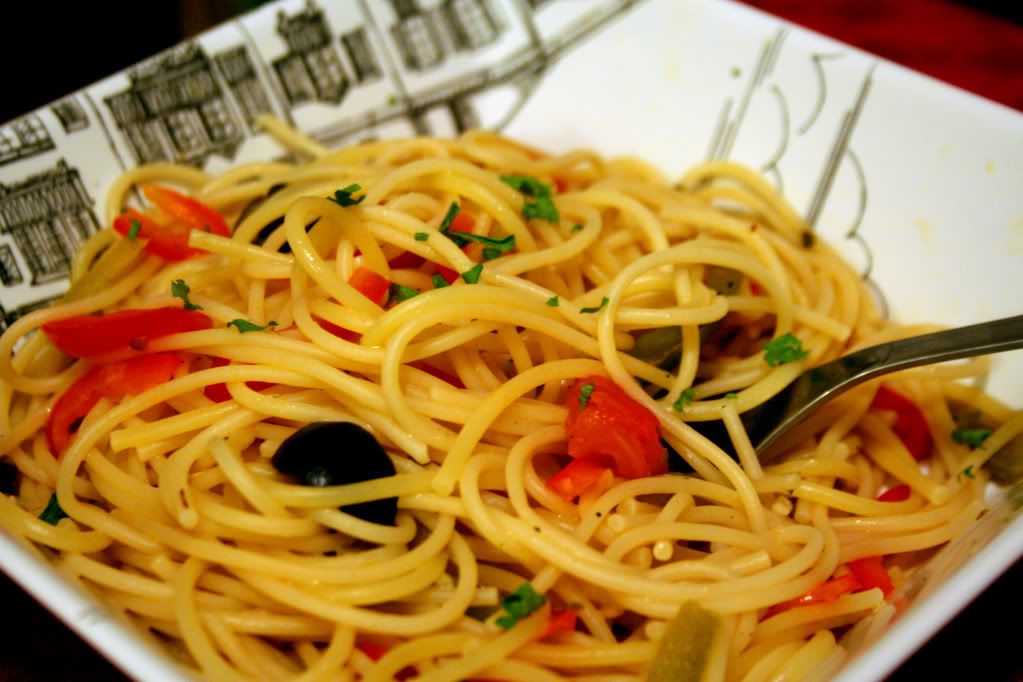 This pasta dish is a simple and delicious way to expand your vegan pasta repertoire and can be made only using one large frying pan-- which of course, makes cleaning easier. I particularly enjoy changing up the white wine to test the different subtle flavors that each adds to the dish, and this makes a terrific side to a salad.
Olive, Pepper & Tomato Tagliatelli
8 oz. tagliatelli pasta
2 tablespoons virgin olive oil
2 tablespoons butter replacement (I use Earth Balance)
2 garlic cloves, minced
1 green pepper, thinly sliced
1 red pepper, thinly sliced
1 tomato, cut into large chunks
150 ml dry white wine (I used the Charles Shaw Chardonnay)
2 tablespoons quartered, pitted black olives
salt
ground black pepper
fresh oregano
Cook the pasta in a frypan of salted water for 8 or so minutes or until 'al dente'-- drain thoroughly and place it in a bowl.
Heat the oil and butter in the pan used for the pasta. Saute the garlic for 30 seconds and add the peppers for 3 minutes, stirring occasionally.
Stir in the tomatoes, wine, and olives,and cook for 2 minutes. Add the pasta, and cook for another 3-5 minutes. Top with oregano and fresh crushed pepper. Mix and stir.
This is a delicious vegan main course that is simple to make and can be accompanied by champagne or a Cabernet. The sweetness of the tomatoes is complemented by the black olives and peppers, which are held together with the white wine base-- a simple yet elegant dressing for the pasta-- enjoy!