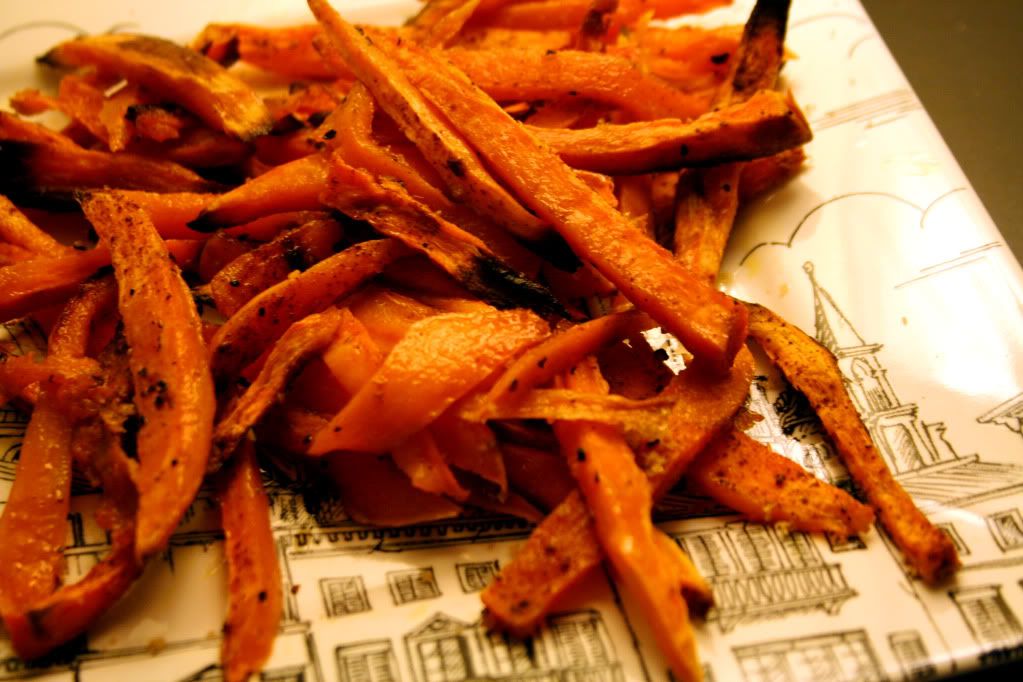 This little vegan side is a great supplement to a veggie dog or veggie burger for a kid, and also makes a healthier alternative to fried french fries and potato chips. These are very sweet, and can be a bit tricky in the oven-- but are well worth it. The largest issue is getting them crispy-- the sweet potatoes just seem to have little interest in doing so!
2 sweet potatoes, sliced into french fries
1/2 teaspoon cinnamon
1/4 teaspoon ground cardamom
1/4 teaspoon ground ginger
1/4 teaspoon ground coriander
2 1/2 tablespoons light brown sugar
fresh ground black pepper
table salt to taste
3 tablespoons light olive oil
Preheat the oven to 400 degrees.
Rinse the sweet potato fries and spread over baking sheet.
Mix cinnamon, cardamom, ginger, coriander, and light brown sugar in a small bowl and sift over the fries-- top with black pepper and salt.
Drizzle olive oil over fries.
Put fries in the oven for 25 minutes-- checking often the last 10 minutes to watch for burning.
The key is to brown them as much as possible and to absorb as much of the water in the fries. Although a little tricky, it's well worth the effort!